1. What is Alldata Software?​
Referring to Alldata software, surely every car repairman knows, it is a software to look up many car models with a huge capacity that provides all the repair information that an auto repairman needs.
Alldata software's characteristics is to collect all information of the manufacturer: from specifications, circuit diagrams, location information, instructions for DTC, disassembly, part number search, labor times …
This information is mostly compiled by Alldata in the form of images according to the manufacturer's documentation and has not been edited, because that makes the capacity of this software very large (563 Gb for version 10.53).
The software supports the vehicle from 1982 to 2014, because the capacity is very large, so most of it is stored on the external hard drive and when you need to use it, you plug the external hard drive in and mount the disk to use, it is very inconvenient and time consuming. Only suitable for those who know the basics of computer use, otherwise it will be a bit difficult (especially in the step of mounting the disk to get data to use).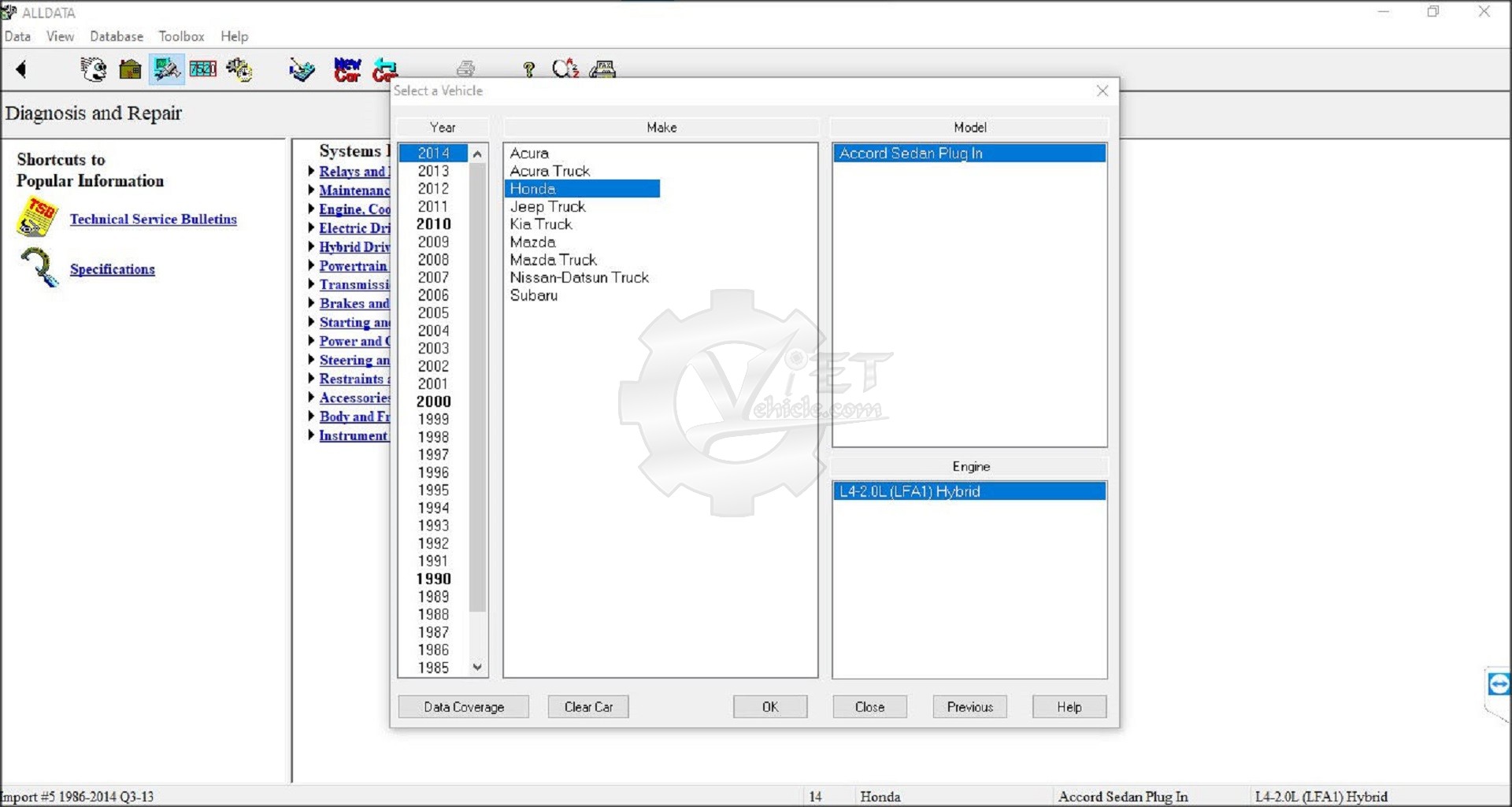 2. What is Alldata Online?​
The offline version of Alldata software is 10.53, this is also the last Offline version of the software, since then Alldata no longer updates the Offline version but switches to the Online version which is more convenient, newer and more functions
With the Alldata online version, you will need an account, go directly to the Alldata official's website and log in. Then you do the lookup and get your data directly on it
However, according to Alldata's policy, it only provides users with an auto repair license in the US and Canada, so it is very difficult to own this account for the remaining regions.
But don't worry,
DHTauto
offers a solution for owning an Alldata online account to use on the official website for those who are not in the US and Canada markets, let's follow along.
3. Alldata Online Account Information​
Duration of use: 1 year
Supported device: computer, smart phone, tablet, smart diagnostic machine or any device with internet access
Server: Do not use a separate server. Access to Alldata's official website
Language: English
Supported models: mainly US market
Supported year: from 1962 to the latest current is 2023
Note: Currently, some places offer Alldata online accounts, but are provided with the form of using a private server, or through Teamviewer, this has some limitations such as:
The data cannot be updated to the latest in real time
Access speed depends on the speed of the server (in case of poor quality server, the speed is very slow)
Complicated and cumbersome form of access

5. Outstanding Features of Alldata Online​
– Flexible use on many devices, you don't need a laptop to use it, you can use it on your smart phone. Is it very convenient to repair a car while looking up documents right on your smart phone?
– Official Alldata account, accessed directly from the Alldata's website without having to go through a third-party server, so you can rest assured that the quality and data are always updated to the latest.
6. Who Should Use The Account​
In our opinion, the following people should use an Alldata Online account
– Garage, workshop, dealer or service point: depending on the capacity of the vehicles or depending on your conditions: usually, you should equip yourself with at least one account to serve the job.
– Repairman, technicians should also equip themselves to be more active in their work
And some other people depending on needs
7. Reasons To Own At Least One Of Our Alldata Online Accounts​
– You have your own account, you are completely proactive because it is your own, you use it throughout, not depending on anyone, saving you time to repair.
– Increase the level of professionalism and customer trust: Alldata is a famous software company providing auto repair data in the world, by applying this account in repairing job, customers will feel your garage has investment, professionalism, and of course increase customer confidence in your garage
– Genuine Alldata only supports US and Canada market users, so if you are in other regions like Asia, Europe… you can't buy a genuine account, even if the budget is not an issue for you. But with our account, you can buy it wherever you are
– With a cost of only $ 240, but you can use it for 1 year. Compared to the original version, which is $ 179/ month ($ 2148/ year), this saves you a amount not small.
---
More details:
---
Are you concerned about risk after payment?

​

We know you are concerned about the prepayment, receive the software later. Don't worry, you should use

Paypal

and remember to choose a payment method

Pay for goods or services

, you will be guaranteed safety by Paypal.

It is a form of assurance that gives you peace of mind, but in fact you will never need Paypal to resolve a dispute, because we would not be foolish to exchange a DHTauto.com brand that we have built it. When there was bad feedback, our Paypal account was also locked. And will affect our brand. So if the case does not support you, we are ready to Refund the money you sent us.

Please refer:

Refund policy.
Are you concerned that you will not know how to use the software?

​

If you are newbie, you can refer to our videos on our

Youtube channel

or

Facebook

. We regularly upload video instructions to test the vehicle or perform the functions of programming, review software, install software,.... Is it important that you take the time and effort to learn?. There are many tutorials, and many videos and documents that are completely free.

Also, if you need us to do it for you, check out:

DHT AUTO STORE