Jul 27, 2015
270
71
28
30
If you download this document, you will be lost 4400 Beer
Download Now
Description:
Electronic Parts Catalog (TOYOTA EPC ) Local software contains information on spare parts and accessories for all Toyota, Lexus, and Scion vehicles from 1969 to 2022 of all worldwide Markets.
Type of software:
Parts Catalog Software
Capacity:
7.25GB
Version:
v02.2021
Brand:
Toyota, Lexus and Scion
Region:
All region
Language:
English, French, German, Spanish
Computer Requirements:
OS: Windows: 7, 10 32/ 64 Bit
Free hard drive: 60 GB or more
CPU: Core i3 or above
Ram: 4GB or more
Software Feature:
VIN Search. Please take into account that you need to select the region/market before process the VIN decode.
All Regions coverage in a single application.
Parts Diagrams, 100% correct OEM part numbers.
Toyota and Lexus vehicles details in the same shell.
Offline version can not update.
Supported models:
Tool/Engine/Fuel:
Standard Tool
Partial Engine Assembly
Short Block Assembly
Engine Overhaul Gas ET Kit
Cylinder Head
Cylinder Block
Timing Gear Cover & Rear End Plate
Mounting
Ventilation Hose
Crank Shaft 7 Piston
Camshaft & Valve
Engine Oil Pump
Oil Filter
Engine Oil Cooler
Water Pump

PowerTrain/Chassis:
Clutch & Release Fork
Clutch Pedal & Flexible Hose
Free Tronic
Pump & Actuator, sequential or Multi-mod
Transaxle or Transmission assy & GASKET
Clutch Housing & Transmission Case (MTM)
Transmission Gear (MTM)
Gear Shift Fork 7 Lever Shift(MTM)
Shift Lever & Retainer
Rear Axle Shaft & Hub
Dis Wheel & Wheel Cap
Front Axle Housing & Differential
Front Drive Shaft
Front Axle Hub
Steering Column & Shaft

Body:
Suspension Crossmember & Under Cover
Spare Wheel Carrier
Front Bumper & Bumper Stay
Rear Bumper & Bumper Stay
Radiator Grille
Hood & Front Fender
Hood Lock & Hinge
Front Fender Apron & Dash Panel
Floor Side Member
Instrument Panel & Glove Compartment
Cowl Panel & Windshield Glass
Hole Plug
Floor Pan & Lower Back Panel
MAT & Carpet
Console Box & Bracket

Electrical:
Headlamp
Fog lamp
Side Turn Signal Lamp & Outer Mirror Lam
Rear Combination Lamp
Rear License Plate Lamp
Center Stop Lamp
Daytime Running Lamp or Illumination Lamp
Interior Lamp
Battery & Battery Cable
Wiring & Clamp
Meter
Switch 7 Relay & COM Puter
Electronic Fuel Injection System
Electronic Controlled Diesel (ECD)
Overdrive & Electronic Controlled Trans

Toyota Lexus EPC 2020 covers:
AGYA/WIGO
ALPHARD
ALPHARD/VELLFIRE/HV
ALPHARD HV
ALTEZZA/ALTEZZA GITA
ARISTO
AQUA
AURIS
AURIS/COROLLA (JPP)
AURIS/HYBRID (UKP)
AVALON
AVANZA
AVENSIS
AYGO
BB
BB/OPEN DECK
BLADE
BLIZZARD
CALDINA
CALYA
CAMI
CAMRY
CAMRY GRACIA
CAMRY/AURION/HV ARL
CAMRY (JPP)
CAMRY JPP/SED
CAMRY HV JPP
CAMRY HV NAP
CAMRY NAP
CAMRY (SED)
CAMRY (WG)
CAMRY/HYBRID
CAMRY NAP/SED/WG
CAMRY/VISTA
CARINA
CARINA 2
CARINA E SED/LB (JPP)
CARINA E (UKP)
CARINA E WG (JPP)
CARINA ED
CARINA FF
CARINA FR
C-HR
C-HP TUP
C-HP JPP
CELICA
CELSIOR
CENTURY
CHASER
COASTER
COROLLA
COROLLA 2
COROLLA/ALTIS SED/WG
COROLLA/AXIO
COROLLA AXIO/FIELDER
COROLLA/AURIS
COROLLA FX
COROLLA/FIELDER
COROLLA JPP
COROLLA LEVIN
COROLLA NAP
COROLLA NAP/SED
COROLLA/MATRIX NAP
COROLLA SED/LB
COROLLA SED/LB/WG
COROLLA SED/WG
COROLLA SED/WG (JPP)
COROLLA SED/WG UKP
COROLLA SED/CP/WG
COROLLA SED (JPP)
COROLLA SED
COROLLA SPRINTER
COROLLA HB JPP
COROLLA CP
COROLLA CP/HB
COROLLA HB
COROLLA HB/LB
COROLLA LB
COROLLA LEVIN
COROLLA HB (UKP)
COROLLA RUNX/ALLEX
COROLLA VERSO
COROLLA WAGON
COROLLA/TRUENO
COROLLA COUPE
COROLLA (S.AFRICA)
COROLLA SPACIO
COROLLA RUMION
COROLLA 5D
CORONA
CORONA/CARINA 2
CORONA EXIV
CORONA FF COUPE
CORONA FR
CORONA SED/FB
CORONA SED UKP
CORONA WG
CORSA/TERCEL
CRESSIDA
CRESSIDA WAGON
CRESTA
CROWN
CROWN COMFORT
CROWN COMFORT/SED
CROWN/CROWN MAJESTA
CROWN/HYBRID
CROWN/MAJESTA
CURREN
CYNOS
DELIBOY
DUET
DYNA 100
DYNA 150
DYNA 150/TOYOACE G15
DYNA
DYNA 200
DYNA 200/TOYOACE G25
DYNA/TOYOACE
DYNA/TOYOACE HV
DYNA/TOYOACE QUICK
ECHO
ESTIMA
ESTIMA T/L
ESTIMA EMINA/LUCIDA
ESTIMA HYBRID
ETIOS
ETIOS/LIVA/CROSS
EQ EV
FJ CRUISER
FRONTIER
FUN CARGO
GAIA
GRANVIA/GRAND HIACE
GT86/86
86
86 GRMN
HARRIER
HARRIER HV
HEAVY DUTY TRUCK
HIACE
HIACE TRUCK
HIACE VAN, COMMUTER
HIACE VAN, WAGON
HIACE/HIACE S.B.V
HIACE/REGIUSACE
HIACE QUICK DELIVERY
HIGHLANDER
HIGHLANDER JPP
HIGHLANDER HV
HIGHLANDER NAP
HIGHLANDER/KLUGER
HILUX
HILUX (2WD)
HILUX (JPP)
HILUX SURF
HILUX (VWP)
HILUX/4RUNNER 4WD
INNOVA
INNOVA/KIJANG
INNOVA/KIJANG INNOVA
IPSUM
ISIS
IST
IQ
IQ EV
KLUGER
KLUGER L/V
KLUGER HV
LAND CRUISER
LAND CRUISER 90
LAND CRUISER PRADO
LAND CRUISER 100
LAND CRUISER S/T, H/T
LAND CRUISER VAN
LEVIN/HYBRID
LEVIN/TRUENO
LEXUS CT200H
LEXUS ES300
LEXUS ES300/330
LEXUS ES350
LEXUS ES350 NAP
LEXUS ES240/350
LEXUS ES2##/350/300H
LEXUS ES250
LEXUS IS200/300
LEXUS IS250/300
LEXUS IS250C/300C
LEXUS IS250C/350C
LEXUS IS250/350/2##D
LEXUS IS2###/300H
LEXUS IS2###/3###
LEXUS IS300
LEXUS IS F
LEXUS IS250C
LEXUS ES2##/350/300H
LEXUS GS300
LEXUS GS300/400/430
LEXUS GS300/430
LEXUS GS30/35/43/460
LEXUS GS SERIES
LEXUS GS450H
LEXUS GS F
LEXUS GX400/460
LEXUS GX460
LEXUS GX460/430/350
LEXUS GX470
LEXUS HS250H
LEXUS NX SERIES
LEXUS NX200T/300H
LEXUS NX300H/200T200
LEXUS LC500/500H
LEXUS LS SERIES
LEXUS LS400
LEXUS LS430
LEXUS LS460/460L
LEXUS LS600HL
LEXUS LS600H/600HL
LEXUS LFA
LEXUS LX450
LEXUS LX470
LEXUS LX450D/460/570
LEXUS LX450D/570
LEXUS LX570
LEXUS SC300/400
LEXUS SC430
LEXUS SX430
LEXUS RC F
LEXUS RC35/300H/200T
LEXUS RC350300H/200T
LEXUS RC350/300/200T
LEXUS RC3###/200T
LEXUS RX SERIES
LEXUS RX300
LEXUS RX350L
LEXUS RX300/350 JPP
LEXUS RX300/330/350
LEXUS RX330/350 NAP
LEXUS RX350/450H JPP
LEXUS RX350/450H NAP
LEXUS RX270/350/450H
LEXUS RX450H/200T
LEXUS RX450H/350 JPP
LEXUS RX450H/350 NAP
LEXUS RX450H/350200T
LEXUS RX400H
LITE/TOWNACE
LITE/TOWNACE NOAH, V
LITE/TOWNACE TRUCK
LITE/TOWNACE V, WG
LITEACE
LITEACE VAN, WAGON
LVN/CRE/TRN/MRN
MAJESTA
MARK 2
MARK 2/MARK 2 BLIT
MARK 2 V, WG
MARK 2 WG
MARK X
MARK X ZIO
MATRIX
MEGA CRUISER
MIRAI
MODEL-F
MR2
MR-S
NADIA
NOAH
NOAH/VOXY
NOAH/VOXY/ESQUIRE
OPA
ORIGIN
PASEO
PASSO
PASSO SETTE
PICNIC/AVENSIS VERSO
PICNIC
PICKUP
PIXIS MEGA
PIXIS JOY
PIXIS EPOCH
PIXIS SPACE
PIXIS TRUCK
PIXIS VAN
PLATZ
PORTE
PORTE/SPADE
PREMIO/ALLION
PRIUS
PRIUS A ALPHA
PRIUS C
PRIUS (PLUG-IN HBD)
PRIUS PLUG-IN LEASE
PRIUS PHV
PRIUS PRIME PHV
PRIUS +/V/A (ALPHA)
PRIUS V
PREVIA
PREVIA/TARAGO
PROBOX/SUCCEED
PROGRES
PRONARD
PUBLICA
QUALIS
QUICK DELIVERY
QUICK DELI/URBAN SUP
QUICK DELIVERY 200
RACTIS
RAV4
RAV4 JPP
RAV4 J/L
RAV4 NAP
RAV4 EV
RAV4/VANGUARD
RAUM
REIZ
REGIUS/TOURING HIACE
RUKUS
RUSH
SAI
SCEPTER WG, CP
SCEPTER SED
SCION IA/YARIS R/IA
SCION IM/IM
SCION IQ
SCION IQ EV
SCION FR-S/86
SCION TC
SCION XA
SCION XB
SCION XD
SERA
SEQUOIA
SIENTA
SOARER
SOARER/LEXUS SC430
SOLARA
SOLUNA
STARLET
STOUT
SPACIO
SPADE
SPARKY
SPRINTER
SPRINTER CARIB
SPRINTER TRUENO
SUPRA
T100
TACOMA
TANK/ROOMY
TERCEL
TOWN/MASTERACE V, WG
TOWANCE/LITEACE
TOYOTA1000
TOYOACE
TOYOACE/DYNA
TOYOTA XA
TUNDRA
T.U.V
URBAN CRUISER
VAN
VENZA
VEROSSA
VERSO-S
VERSO
VIOS
VIOS/SOLUNA VIOS
VISTA/VISTA ARDEO
VITZ
VOLTZ
WISH
WILL CYPHA
WILL VI
WILL VS
WINDOM
YARIS
YARIS JPP
YARIS/ECHO
YARIS/ECHO VERSO
YARIS (FRP)
YARIS/HYBRID (FRP)
YARIS/VIOS/LIMO
YARIS GRMN
ZELAS
4-RUNNER TRUCK
4-RUNNER TRUCK (JPP)
4RUNNER
4-RUNNER TRUCK NAP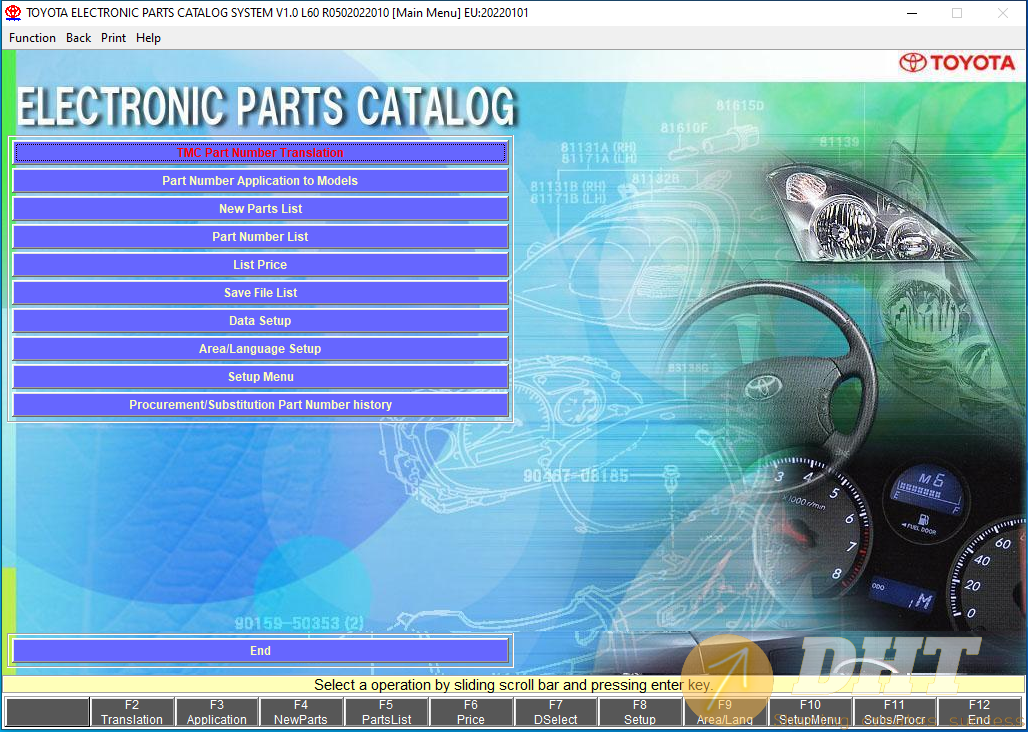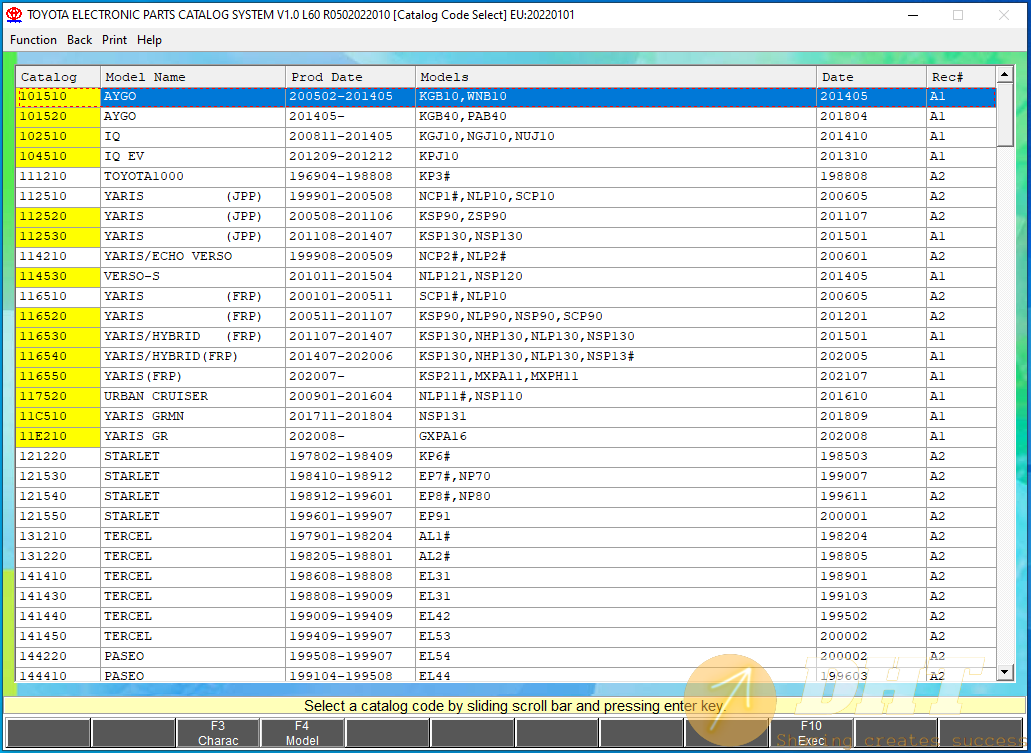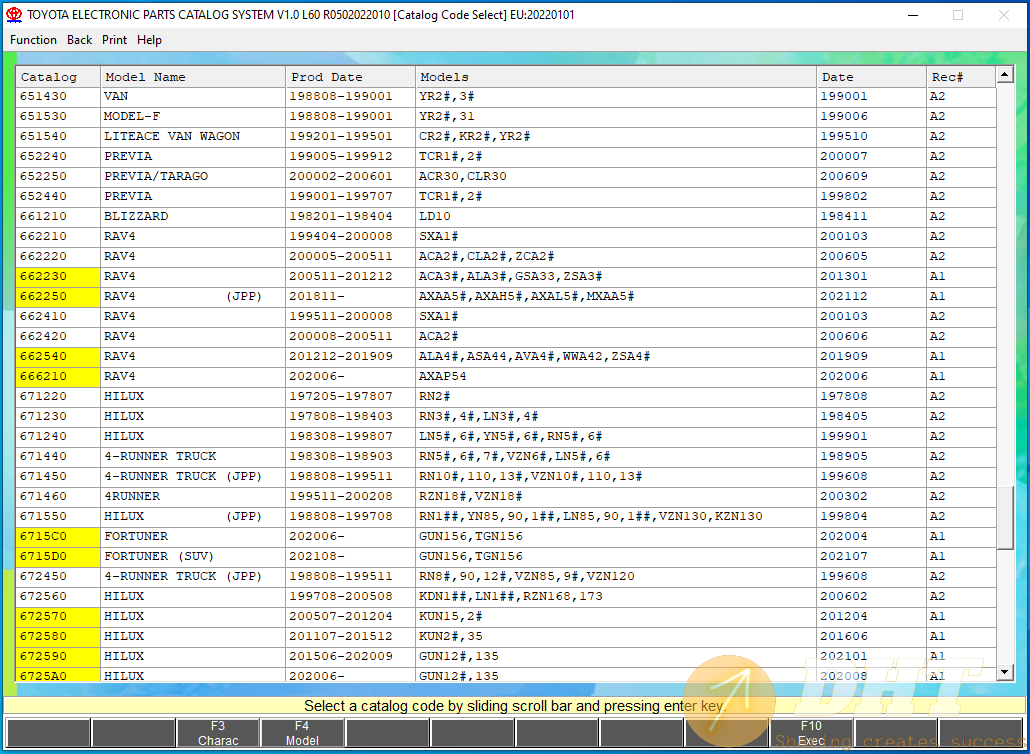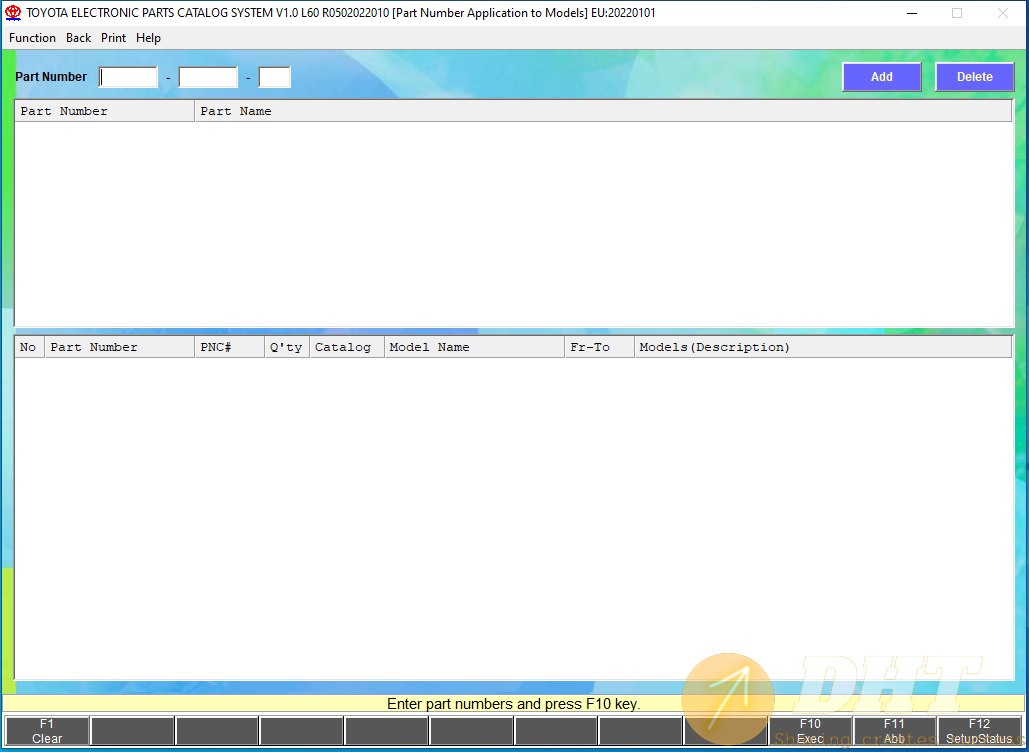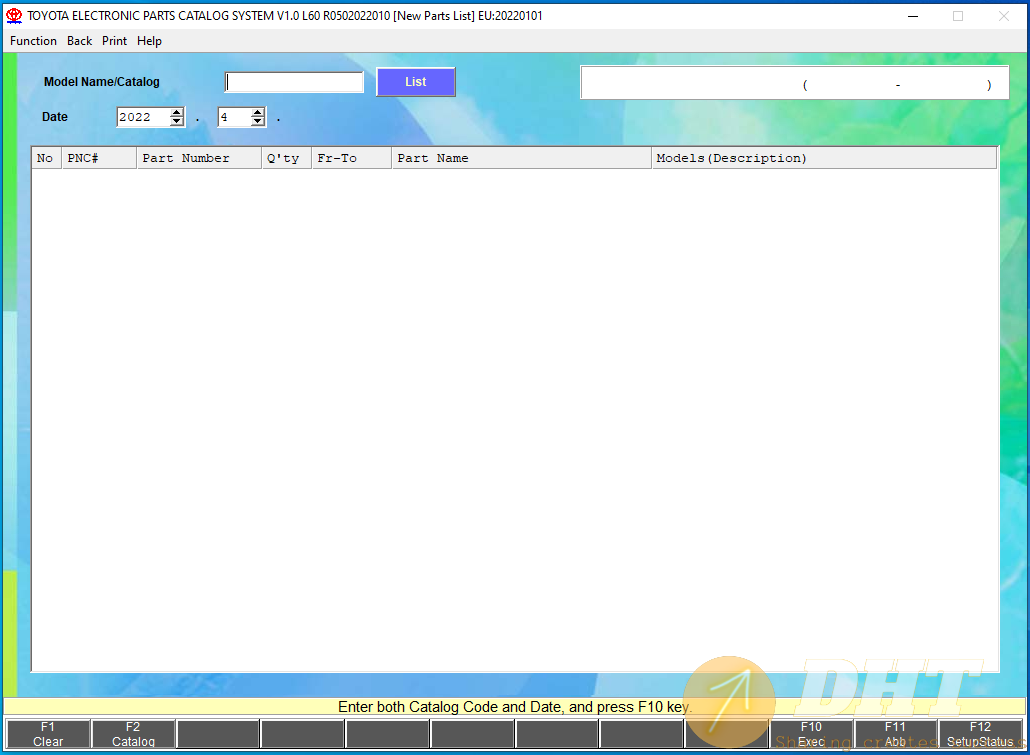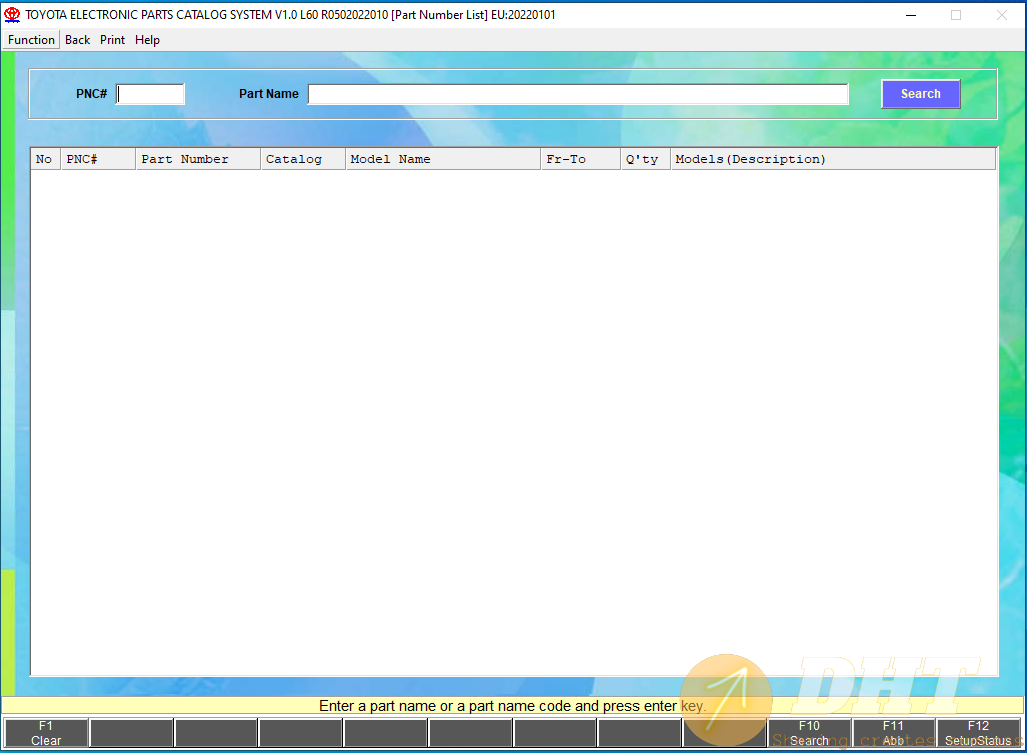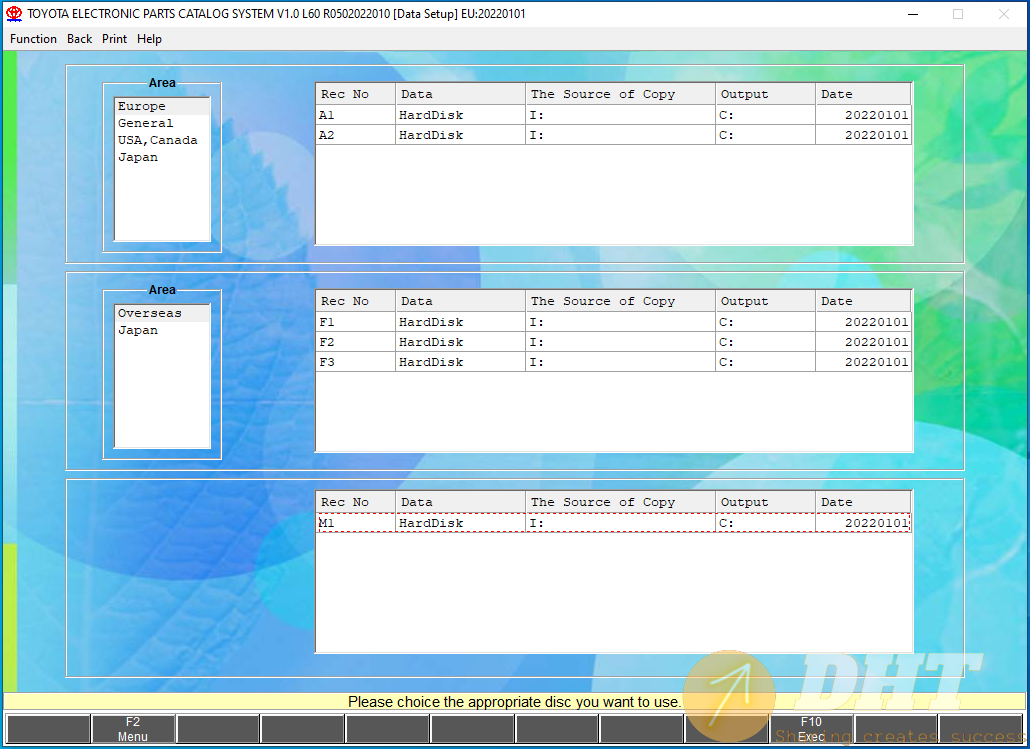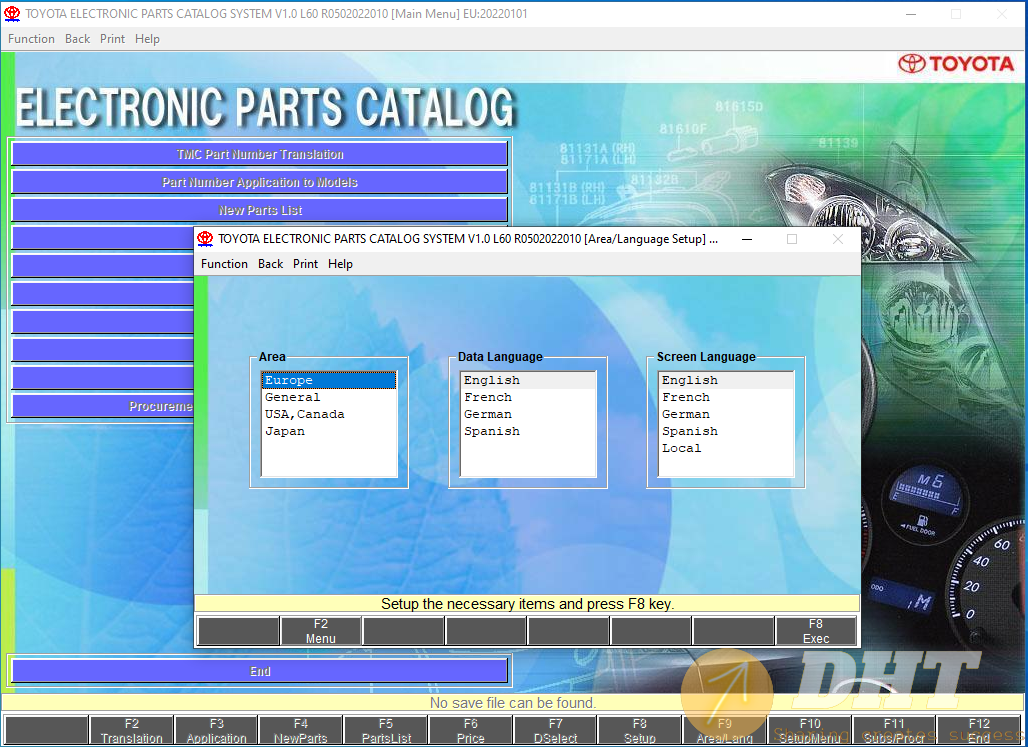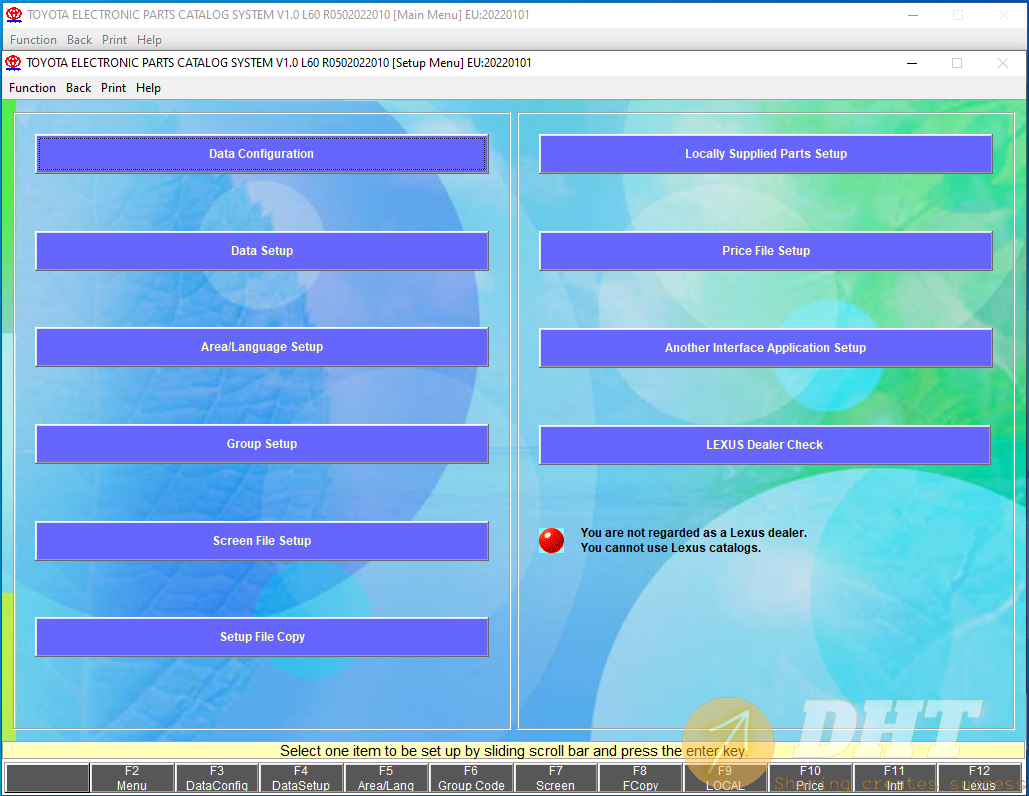 Last edited by a moderator: