Jan 9, 2016
1,490
167
63
33
If you download this document, you will be lost 6100 Beer
Download Now
General Motors GMIO EPC Parts Catalog Asia, Africa 08. 2021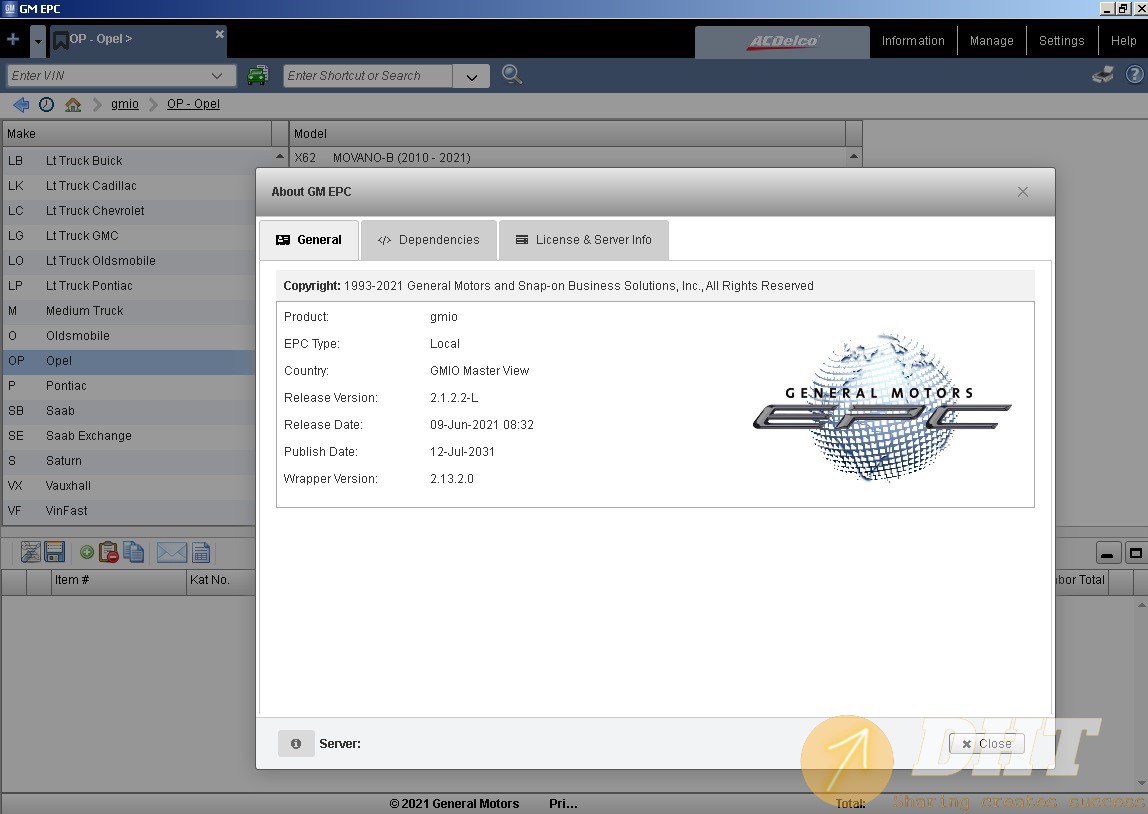 ​
Description:
To your attention a GMIO 2021 General Motors GMIO 2021 online spare category for GM cars. The electronic catalog contains a lot of information for the cars of this brand as a complete and removing spare list and assembling these machines. In this category, you will find detailed recommendations on the use, maintenance and repair of machines, as well as books about spare parts, specifications, tables and diagrams.
Electronic Parts Catalog contains full information on spare parts and accessories of General Motors Asia ,Africa , Middle East vehicles From 1953 to 2021
Type of catalogue:
spare parts catalog
Make:
General Motors
OS:
Windows 7 32 bit, Windows 7 64 bit, Windows 8/8.1 32 bit, Windows 8/8.1 64 bit, Windows 10 32 bit, Windows 10 64 bit
Languages:
English, Czech, Danish, Dutch, Finnish, French, German, Greek, Hungarian, Italian, Norwegian, Polish, Portuguese, Russian, Spanish, Swedish, and Turkish.
Support Regions:
AFRICA
CAMBODIA
CHINA
INDIA
INDONESIA
ISRAEL
JAPAN
MALAYSIA
MIDDLE EAST
PHILIPPINES
REPUBLIC OF KOREA
RUSSIA
SHANGHAI GM
SINGAPORE
SOUTH AFRICA
TAIWAN (YULON)
THAILAND
UKRAINE
UZBEKISTAN
VIETNAM
Support Brand:
- B - Buick
A Century
A Century
A Century
W Century
C Electra
C Electra
D Electra
C Electra
R Enclave (2WD)
V Enclave (AWD)
B Estate Wagon
B Estate Wagon
B Estate Wagon
B Hearse/Limousine
W Lacrosse/Allure
B Lesabre
B Lesabre
H Lesabre
H Lesabre
H Lesabre
B Lesabre Wagon
H Lucerne
C ParkAvenue
C ParkAvenue
E Reatta
A Regal
G Regal
W Regal
W Regal
W Regal
B Rendezvous
E Riviere
B Riviere
E Riviere
E Riviere
E Riviere
G Riviere
B Roadmaster Sedan
H Skyhawk
J Skyhawk
X Skylark
X Skylark
N Skylark
N Skylark
N Somerset
N Somerset
U Terraze
X Terraza (AWD)
- K - Cadillac
V Allante
A ATS (4DRNB) (SUP)
A ATS Coupe
A ATS Sedan
A ATS V-Series Coupe and Sedan
A ATS V-Series Coupe
D Brougham
C Calais
V Catera
J Cimarron
Z Commercial Chassis
Z Commercial Chassis
K CT6
D CTS
D CTS Coupe
D CTS Sedan
A CTS Sedan
A CTS V-Series
D CTS V-Series Sedan "Exclusive"
D CTS Wagon
C Deville
C Deville
D Deville
C Deville
K Deville
K Deville
K DTS
E Eldorado
E Eldorado
E Eldorado
E Eldorado
E Eldorado
C Fleetwood Brougham
C Fleetwood Brougham
D Fleetwood Brougham
D Fleetwood Brougham
D Fleetwood Brougham
C Fleetwood Brougham (FWD)
D Fleetwood Brougham (RWD)
C Fleetwood Coupe
C Fleetwood D'Elegance
D Fleetwood Limousine
D Fleetwood Limousine
D Fleetwood Limousine
C Fleetwood Limousine
D Fleetwood Sedan
C Fleetwood Sixty Special
C Funeral Coach
K Hearse/Limousine
K Hearse/Limousine
K Seville
K Seville
K Seville
K Seville
K Seville
E SRX
N SRX
D STS
Y XLR
N XT5
- C - Chevrolet
L Beretta
L Beretta
J Cadet
F Camaro
F Camaro
F Camaro
A Camaro
E Camaro Convertible
E Camaro Coupe
B Caprice
B Caprice
B Caprice
L Caprice
J Cavalier
J Cavalier
J Cavalier
A Celebrity
T Chevette
T Chevette
X Citation
X Citation
A Cobalt
L Corsica
L Corsica
Y Corvette
Y Corvette
Y Corvette
Y Corvette
Y Corvette
A El Camino
G El Camino
L Equinox
B Hearse/Limousine
A HHR
B Impala
B Impala
W Impala
W Impala
W Impala Limited (Carryover model)
B Impala SS
W Lumina
W Lumina
U Lumina APV
A Malibu
G Malibu
N Malibu
Z Malibu
Z Malibu
Z Malibu (Carryover Model)
Z Malibu (New Model)
Z Malibu (New Model)
N Malibu Classic (Carryover Model)
M Metro
A Monte Carlo
G Monte Carlo
W Monte Carlo
W Monte Carlo
W Monte Carlo
H Monza
X Nova
S Nova
S Prizm
J Sonic
R Spectrum
M Sprint
M Sprint
R Storm
R Traverse (2WD)
V Traverse (AWD)
U Uplander (2WD)
X Uplander (AWD)
H Vega
U Venture APV
T02 Aveo (T200) [GEN
T06 AVEO (T250/ T255) [EUR]
T06 Aveo (T250/ T255) [GEN]
K Aveo (Thailand)
A Camaro
E Camaro Coupe
WH Caprice
L Captiva
L Captva
L Captva (C100)
L Captiva (Thailand)
2 Colorado (Thailand) Crew CAB /2WD /4WD
2 Colorado (Thailand) Ext CAB / 2VWD /4WD
2 Colorado (Thailand) Reg CAB /2WD /4WD
E Commodore
P Cruze
B Cruze
P Cruze (HB)
V06 EPICA (V250) [EUR]
V06 Epica (V250) [GEN]
TO2 KALOS + AVEO (T200) [EUR]
J03 LACETTI + NUBIRA + OPTRA (J200) [EUR]
J03 Lacetti + Optra (J200) [GEN]
VY Lumina (RHD)
VZ Lumina (RHD)
G Malbu
M04 MATIZ + SPARK (M200) [EUR]
J Optra (Thailand)
P Orlando (MPV-C)
J Sonic
J Sonic
C Spark
C Spark
M04 Spark + Matiz (M200) [GEN]
C Spark Classic
C Spark Classic
U00 TACUMA + REZZ0 (U100) [EUR]
2 TrailBlazer
2 TraiBlazer ***VIN Required***
J Trax
U Vivant
U00 Vivant (U100) [GEN]
- G - GMC
R Acadia (2WD)
V Acadia (AWD)
R Acadia/Enclave (2WD)
V Acadia/Enclave (AWD)
R Traverse/Acadia/Enclave (2WD)
V Traverse/Acadia/Enclave (AWD)
R Traverse/Acadia Limited/Enclave (2WD)
V Traverse/Acadia Limited/Enclave (4WD/AWD)
- H - Hummer
N H2
N H2 SUT - 36 Bodystyle
N H2 SUT - 36 Bodystyle
N H2 SUT - 36 Bodystyle
N H2 SUT - 36 Bodystyle
N H2 SUV - 06 Bodystyle
N H2 SUV - 06 Bodystyle
N H2 SUV - 06 Bodystyle
N H2 SUV - 06 Bodystyle
N H3
N H3
N H3
N H3 SUV
N H3 SUV
N H3T - 43 Bodystyle
N H3T - 43 Bodystyle
- L - Light Truck
R Acadia (2WD)
V Acadia (AWD)
R Acadia/Enclave (2WD)
V Acadia/Enclave (AWD)
M Astro/Safari
M Astro/Safari (2WD)
L Astro/Safari (AWD)
C Avalanche - 36 Bodystyle (2WD)
C Avalanche - 36 Bodystyle (2WD)
K Avalanche/Escalade EXT - 36 Bodystyle (4WD/AWD)
K Avalanche/Escalade EXT - 36 Bodystyle (4WD/AWD)
C Blazer/Jimmy (2WD)
C Blazer/Jimmy (2WD)
C Blazer/Jimmy (2WD)
S Blazer/Jimmy (2WD)
T Blazer/Jimmy (4WD/AWD)
K Blazer/Jimmy (4WD)
K Blazer/Jimmy (4WD)
T Blazer/Jimmy (4WD)
R Blazer/Jimmy - 16 Bodystyle (2WD)
K Blazer/Jimmy - 16 Bodystyle (4WD)
V Blazer/Jimmy - 16 Bodystyle (4WD)
T Blazer/Jimmy - 16 Bodystyle (4WD/AWD)
K Blazer/Yukon - 16 Bodystyle (4WD)
S Canyon/Colorado (2WD)
T Canyon/Colorado (4WD)
L Equinox
K Escalade - 06 Bodystyle (4WD)
G Express/Savana
G Express/Savana (2WD)
H Express/Savana (AWD)
P Forward Control Chassis
P Forward Control Chassis
P Forward Control Chassis
A HHR
N Hummer H2
N Hummer H3 SUV - 06 Bodystyle
N Hummer H3T Pickup - 43 Bodystyle
C Pickup (2WD)
C Pickup (2WD)
K Pickup (4WD)
K Pickup (4WD)
C Pickup - 03, 43 Bodystyle (2WD)
R Pickup - 03, 43 Bodystyle (2WD)
K Pickup - 03, 43 Bodystyle (4WD)
V Pickup - 03, 43 Bodystyle (4WD)
C Pickup - 03, 43, 53 Bodystyle (2WD)
C Pickup - 03, 43, 53 Bodystyle (2WD)
C Pickup - 03, 43, 53 Bodystyle (2WD) (Carryover Model)
K Pickup - 03, 43, 53 Bodystyle (4WD)
K Pickup - 03, 43, 53 Bodystyle (4WD)
K Pickup - 03, 43, 53 Bodystyle (4WD) (Carryover Model)
C Pickup - 03, 53 Bodystyle (2WD)
K Pickup - 03, 53 Bodystyle (4WD)
R Pickup - 43 Bodystyle (2WD)
V Pickup - 43 Bodystyle (4WD)
C Pickup 3500HD (2WD) (Carryover Model)
S S10/S15 Pickup (2WD)
T S10/S15 Pickup (4WD)
S S10/Sonoma Pickup (2WD)
S S10/Sonoma Pickup (2WD)
S S10/Sonoma Pickup (4WD)
S S10/Sonoma Pickup (4WD)
S S10 Blazer/S15 Jimmy (2WD)
S S10 Blazer/S15 Jimmy (2WD)
T S10 Blazer/S15 Jimmy (4WD)
T S10 Blazer/S15 Jimmy/Bravada (4WD/AWD)
C Silverado/Sierre - 03, 43, 53 Bodystyle (2WD)
C Silverado/Sierre - 03, 43, 53 Bodystyle (2WD) (Carryover Model)
C Silverado/Sierre - 03, 43, 53 Bodystyle (2WD) (New Model)
K Silverado/Sierre - 03, 43, 53 Bodystyle (4WD/AWD)
K Silverado/Sierre - 03, 43, 53 Bodystyle (4WD/AWD) (Carryover Model)
C Silverado/Sierre - 03, 53 Bodystyle (2WD) (New Model)
K Silverado/Sierre - 03, 53 Bodystyle (4WD) (New Model)
C Silverado/Sierra/Cheyenne - 03, 43, 53 Bodystyle (2WD)
K Silverado/Sierra/Cheyenne - 03, 43, 53 Bodystyle (4WD/AWD)
C Silverado/Sierra/Cheyenne - 03, 43, 53 Bodystyle (2WD)
C Silverado/Sierra/Cheyenne - 03, 43, 53 Bodystyle (2WD)
K Silverado/Sierra/Cheyenne - 03, 43, 53 Bodystyle (4WD/AWD)
K Silverado/Sierra/Cheyenne - 03, 43, 53 Bodystyle (4WD/AWD) (New Model)
C Silverado/Sierra/Cheyenne Light Duty - 03, 43, 53 Bodystyle (2WD) (New Model)
K Silverado/Sierra/Cheyenne Light Duty - 03, 43, 53 Bodystyle (4WD/AWD) (New Model)
C Silverado/Sierra Heavy Duty - 03, 43, 53 Bodystyle (2WD)
K Silverado/Sierra Heavy Duty - 03, 43, 53 Bodystyle (4WD)
C Silverado/Sierra Heavy Duty - 03, 43 Bodystyle (2WD) (Carryover Model)
K Silverado/Sierra Heavy Duty - 03, 43 Bodystyle (4WD) (Carryover Model)
C Silverado LD/Sierra Limited/Cheyenne Light Duty - 53 Bodystyle (2WD) (Carryover Model)
K Silverado LD/Sierra Limited/Cheyenne Light Duty - 53 Bodystyle (2WD) (Carryover Model)
S SSR
C Suburban (2WD)
C Suburban (2WD)
K Suburban (4WD)
K Suburban (4WD)
C Suburban - 06 Bodystyle (2WD)
R Suburban - 06 Bodystyle (2WD)
C Suburban - 06 Bodystyle (2WD)
C Suburban - 06 Bodystyle (2WD)
C Suburban - 06 Bodystyle (2WD) (Carryover Model)
K Suburban - 06 Bodystyle (4WD)
V Suburban - 06 Bodystyle (4WD)
K Suburban - 06 Bodystyle (4WD)
K Suburban - 06 Bodystyle (4WD)
K Suburban - 06 Bodystyle (4WD) (Carryover Model)
C Suburban / Yukon XL - 06 Bodystyle (2WD)
C Suburban / Yukon XL - 06 Bodystyle (2WD)
C Suburban / Yukon XL - 06 Bodystyle (2WD) (New Model)
K Suburban / Yukon XL - 06 Bodystyle (4WD/AWD)
K Suburban / Yukon XL - 06 Bodystyle (4WD) (New Model)
C Suburban / Yukon XL / Escalade ESV - 06 Bodystyle (2WD)
C Suburban / Yukon XL / Escalade ESV - 06 Bodystyle (2WD)
C Suburban / Yukon XL / Escalade ESV - 06 Bodystyle (2WD)
K Suburban / Yukon XL / Escalade ESV - 06 Bodystyle (4WD/AWD)
K Suburban / Yukon XL / Escalade ESV - 06 Bodystyle (4WD/AWD)
K Suburban / Yukon XL / Escalade ESV - 06 Bodystyle (4WD/AWD)
K Suburban / Yukon XL / Escalade ESV - 06 Bodystyle (4WD/AWD)
T Syclone Pickup (AWD)
C Tahoe/Yukon - 06 Bodystyle (2WD)
C Tahoe/Yukon - 06 Bodystyle (2WD) (Carryover Model)
C Tahoe/Yukon - 06 Bodystyle (2WD) (New Model)
K Tahoe/Yukon - 06 Bodystyle (4WD/AWD) (New Model)
K Tahoe/Yukon - 06 Bodystyle (4WD) (Carryover Model)
K Tahoe/Yukon - 06 Bodystyle (4WD) (New Model)
C Tahoe/Yukon - 06, 16 Bodystyle (2WD)
C Tahoe/Yukon - 06, 16 Bodystyle (2WD)
K Tahoe/Yukon - 06, 16 Bodystyle (4WD)
K Tahoe/Yukon - 06, 16 Bodystyle (4WD)
C Tahoe/Yukon/Escalade - 06 Bodystyle (2WD)
C Tahoe/Yukon/Escalade - 06 Bodystyle (2WD)
C Tahoe/Yukon/Escalade - 06 Bodystyle (2WD)
C Tahoe/Yukon/Escalade - 06 Bodystyle (2WD)
K Tahoe/Yukon/Escalade - 06 Bodystyle (4WD/AWD)
K Tahoe/Yukon/Escalade - 06 Bodystyle (4WD/AWD)
K Tahoe/Yukon/Escalade - 06 Bodystyle (4WD/AWD)
K Tahoe/Yukon/Escalade - 06 Bodystyle (4WD/AWD)
L Torrent (2006-2009)
S Trailblazer/Envoy/Bravada (2WD)
T Trailblazer/Envoy/Bravada (4WD/AWD)
S Trailblazer/Envoy/Rainier (2WD)
T Trailblazer/Envoy/Rainier (4WD/AWD)
S Trailblazer/Envoy/Rainier/Bravada (2WD)
T Trailblazer/Envoy/Rainier/Bravada (4WD/AWD)
R Traverse/Acadia/Enclave (2WD)
V Traverse/Acadia/Enclave (AWD)
R Traverse/Acadia Limited/Enclave (2WD)
V Traverse/Acadia Limited/Enclave (4WD/AWD)
T Typhoon SUV (AWD)
U Uplander/SV-6 (2WD)
U Uplander/SV-6/Terraza (2WD)
X Uplander/SV-6/Terraza (AWD)
G Van
G Van
G Van
G Van
- LB - Lt Truck Buick
R Enclave (2WD)
R Enclave (2WD)
R Enclave (2WD)
V Enclave (AWD)
V Enclave (AWD)
V Enclave (AWD)
S Rainier (2WD)
S Rainier (2WD)
T Rainier (AWD)
T Rainier (AWD)
S Rainier 2WD
T Rainier 4WD
U Terraza (2WD)
U Terraza (2WD)
X Terraza (AWD)
- LK - Lt Truck Cadillac
C Escalade - 06 Bodystyle (2WD)
C Escalade - 06 Bodystyle (2WD)
C Escalade - 06 Bodystyle (2WD)
C Escalade - 06 Bodystyle (2WD)
C Escalade - 06 Bodystyle (2WD)
C Escalade - 06 Bodystyle (2WD)
C Escalade - 06 Bodystyle (2WD)
C Escalade - 06 Bodystyle (2WD) exc Hybrid
C Escalade - 06 Bodystyle (2WD) exc Hybrid
C Escalade - 06 Bodystyle (2WD) exc Hybrid
K Escalade - 06 Bodystyle (4WD)
K Escalade - 06 Bodystyle (4WD)
K Escalade - 06 Bodystyle (AWD)
K Escalade - 06 Bodystyle (AWD)
K Escalade - 06 Bodystyle (AWD)
K Escalade - 06 Bodystyle (AWD)
K Escalade - 06 Bodystyle (AWD) exc Hybrid
K Escalade - 06 Bodystyle (AWD) exc Hybrid
K Escalade - 06 Bodystyle (AWD) exc Hybrid
C Escalade 2WD
K Escalade AWD
K Escalade AWD
C Escalade ESV - 06 Bodystyle (2WD)
C Escalade ESV - 06 Bodystyle (2WD)
C Escalade ESV - 06 Bodystyle (2WD)
C Escalade ESV - 06 Bodystyle (2WD)
C Escalade ESV - 06 Bodystyle (2WD)
C Escalade ESV - 06 Bodystyle (2WD)
C Escalade ESV - 06 Bodystyle (2WD)
C Escalade ESV - 06 Bodystyle (2WD)
C Escalade ESV - 06 Bodystyle (2WD)
K Escalade ESV - 06 Bodystyle (4WD)
K Escalade ESV - 06 Bodystyle (4WD)
K Escalade ESV - 06 Bodystyle (4WD)
K Escalade ESV - 06 Bodystyle (AWD)
K Escalade ESV - 06 Bodystyle (AWD)
K Escalade ESV - 06 Bodystyle (AWD)
K Escalade ESV - 06 Bodystyle (AWD)
K Escalade ESV - 06 Bodystyle (AWD)
K Escalade ESV - 06 Bodystyle (AWD)
K Escalade ESV - 06 Bodystyle (AWD)
С Escalade ESV 2WD
K Escalade ESV AWD
K Escalade EXT - 36 Bodystyle (AWD)
K Escalade EXT - 36 Bodystyle (AWD)
K Escalade EXT - 36 Bodystyle (AWD)
K Escalade EXT - 36 Bodystyle (AWD)
K Escalade EXT - 36 Bodystyle (AWD)
K Escalade EXT - 36 Bodystyle (AWD)
С Escalade EXT 2WD
K Escalade EXT AWD
C Escalade Hybrid - 06 Bodystyle (2WD)
C Escalade Hybrid - 06 Bodystyle (2WD)
C Escalade Hybrid - 06 Bodystyle (2WD)
K Escalade Hybrid - 06 Bodystyle (4WD)
K Escalade Hybrid - 06 Bodystyle (4WD)
K Escalade Hybrid - 06 Bodystyle (4WD)
E SRX
E SRX
E SRX
E SRX
N SRX
N SRX
- LC - Lt Truck Chevrolet
C C-Series 6500/7500/8500
T T-Series 6500/7500/8500
C Topkick/Kodiak
C Topkick/Kodiak C4500/C5500
*OP - Opel
M13 Adam
H00 Agila-A
H08 Agila-B
L07 Antara
M99 Astra Classic
T92 Astra-F
T98 Astra-G + zafira-A
A04 Astra-H
P10 Astra-J
B16 Astra-K
TF0 Campo
TF1 Campo
W13 Cascada
S83 Corsa-A
S93 Corsa-B + Tigra-A M Astro 2WD
M Astro 2WD
L Astro AWD
C Avalanche - 36 Bodystyle (2WD)
C Avalanche - 36 Bodystyle (2WD)
C Avalanche - 36 Bodystyle (2WD)
C Avalanche - 36 Bodystyle (2WD)
C Avalanche - 36 Bodystyle (2WD)
K Avalanche - 36 Bodystyle (4WD)
K Avalanche - 36 Bodystyle (4WD)
K Avalanche - 36 Bodystyle (4WD)
K Avalanche - 36 Bodystyle (4WD)
K Avalanche - 36 Bodystyle (4WD)
C Avalanche 1500 - 36 Bodystyle (2WD)
K Avalanche 1500 - 36 Bodystyle (4WD)
C Avalanche 1500 2WD
K Avalanche 1500 4WD
K Avalanche 2500 - 36 Bodystyle (4WD)
C Avalanche 2500 2WD
K Avalanche 2500 4WD
K Avalanche 2500 LS 4WD
K Avalanche 2500 LT 4WD
V Blazer
S Blazer 2WD
K Blazer 4WD
K Blazer 4WD
T Blazer 4WD
S Blazer Trailblazer 2WD
T Blazer Trailblazer 4WD
S Bravada 2WD
S Bravada 2WD
T Bravada 4WD
T Bravada 4WD
C C10 Pickup 2WD
C C10 Suburban 2WD
C C1500 Pickup 2WD
C C1500 Pickup 2WD
C C1500 Pickup 2WD - Carryover Model
C C1500 Suburban 2WD
C C1500 Suburban 2WD
C C20 Pickup 2WD
C C20 Suburban 2WD
C C2500 Pickup 2WD
C C2500 Pickup 2WD
C C2500 Pickup 2WD - Carryover Model
C C2500 Suburban 2WD
C C2500 Suburban 2WD
C C30 Pickup 2WD
C C3500 Pickup 2WD
C C3500 Pickup 2WD
C C3500 Pickup 2WD - Carryover Model
C C3500 Pickup HD Chassis CAB 2WD - Carryover Model
C Cheyenne - 03, 43, 53 Bodystyle (2WD) (Mexico)
C Cheyenne - 03, 43, 53 Bodystyle (2WD) (Mexico)
C Cheyenne - 03, 43, 53 Bodystyle (2WD) (Mexico)
C Cheyenne - 03, 43, 53 Bodystyle (2WD) (Mexico)
K Cheyenne - 03, 43, 53 Bodystyle (4WD) (Mexico)
K Cheyenne - 03, 43, 53 Bodystyle (4WD) (Mexico)
K Cheyenne - 03, 43, 53 Bodystyle (4WD) (Mexico)
K Cheyenne - 03, 43, 53 Bodystyle (4WD) (Mexico)
K Cheyenne - 03, 43, 53 Bodystyle (4WD) (Mexico)
K Cheyenne - 03, 43, 53 Bodystyle (4WD) (Mexico)
C Cheyenne - 53 Bodystyle (2WD) (Mexico) Carryover Model
K Cheyenne - 53 Bodystyle (4WD) (Mexico) Carryover Model
C Cheyenne Crew Cab - 43 Bodystyle (2WD) (Mexico)
C Cheyenne Crew Cab - 43 Bodystyle (2WD) (Mexico)
C Cheyenne Crew Cab - 43 Bodystyle (2WD) (Mexico)
C Cheyenne Crew Cab - 43 Bodystyle (2WD) (Mexico)
K Cheyenne Crew Cab - 43 Bodystyle (4WD) (Mexico)
K Cheyenne Crew Cab - 43 Bodystyle (4WD) (Mexico)
K Cheyenne Crew Cab - 43 Bodystyle (4WD) (Mexico)
K Cheyenne Crew Cab - 43 Bodystyle (4WD) (Mexico)
K Cheyenne Crew Cab - 43 Bodystyle (4WD) (Mexico)
C Cheyenne Double Cab - 53 Bodystyle (2WD) (Mexico)
C Cheyenne Double Cab - 53 Bodystyle (2WD) (Mexico) (Carryover Model)
K Cheyenne Double Cab - 53 Bodystyle (4WD) (Mexico)
K Cheyenne Double Cab - 53 Bodystyle (4WD) (Mexico) (Carryover Model)
C Cheyenne Extended Cab - 53 Bodystyle (2WD) (Mexico)
C Cheyenne Extended Cab - 53 Bodystyle (2WD) (Mexico)
K Cheyenne Extended Cab - 53 Bodystyle (4WD) (Mexico)
K Cheyenne Extended Cab - 53 Bodystyle (4WD) (Mexico)
C Cheyenne Regular Cab - 03 Bodystyle (2WD) (Mexico)
C Cheyenne Regular Cab - 03 Bodystyle (2WD) (Mexico)
C Cheyenne Regular Cab - 03 Bodystyle (2WD) (Mexico)
C Cheyenne Regular Cab - 03 Bodystyle (2WD) (Mexico)
C Cheyenne Regular Cab - 03 Bodystyle (2WD) (Mexico)
K Cheyenne Regular Cab - 03 Bodystyle (4WD) (Mexico)
K Cheyenne Regular Cab - 03 Bodystyle (4WD) (Mexico)
K Cheyenne Regular Cab - 03 Bodystyle (4WD) (Mexico)
S Colorado - 03, 43, 53 Bodystyle (2WD)
T Colorado - 03, 43, 53 Bodystyle (4WD)
S Colorado 2WD
T Colorado 4WD
S Colorado Crew Cab - 43 Bodystyle (2WD)
S Colorado Crew Cab - 43 Bodystyle (2WD)
S Colorado Crew Cab - 43 Bodystyle (2WD)
S Colorado Crew Cab - 43 Bodystyle (2WD)
S Colorado Crew Cab - 43 Bodystyle (2WD)
T Colorado Crew Cab - 43 Bodystyle (4WD)
T Colorado Crew Cab - 43 Bodystyle (4WD)
T Colorado Crew Cab - 43 Bodystyle (4WD)
T Colorado Crew Cab - 43 Bodystyle (4WD)
T Colorado Crew Cab - 43 Bodystyle (4WD)
S Colorado Extended Cab - 53 Bodystyle (2WD)
S Colorado Extended Cab - 53 Bodystyle (2WD)
S Colorado Extended Cab - 53 Bodystyle (2WD)
S Colorado Extended Cab - 53 Bodystyle (2WD)
S Colorado Extended Cab - 53 Bodystyle (2WD)
T Colorado Extended Cab - 53 Bodystyle (4WD)
T Colorado Extended Cab - 53 Bodystyle (4WD)
T Colorado Extended Cab - 53 Bodystyle (4WD)
T Colorado Extended Cab - 53 Bodystyle (4WD)
T Colorado Extended Cab - 53 Bodystyle (4WD)
S Colorado Regular Cab - 03 Bodystyle (2WD)
S Colorado Regular Cab - 03 Bodystyle (2WD)
S Colorado Regular Cab - 03 Bodystyle (2WD)
S Colorado Regular Cab - 03 Bodystyle (2WD)
S Colorado Regular Cab - 03 Bodystyle (2WD)
T Colorado Regular Cab - 03 Bodystyle (4WD)
T Colorado Regular Cab - 03 Bodystyle (4WD)
T Colorado Regular Cab - 03 Bodystyle (4WD)
T Colorado Regular Cab - 03 Bodystyle (4WD)
T Colorado Regular Cab - 03 Bodystyle (4WD)
S Colorado Sport 2WD
S Colorado Sport LS 2WD
S Colorado Z71 2WD
T Colorado Z71 4WD
S Colorado Z71 LS 2WD
T Colorado Z71 LS 4WD
S Colorado Z85 2WD
T Colorado Z85 4WD
S Colorado Z85 LS 2WD
T Colorado Z85 LS 4WD
L Equinox
L Equinox
L Equinox
L Equinox
G Express 1500
G Express 1500
H Express 1500
G Express 1500 (2WD)
G Express 1500 (2WD)
G Express 1500 (2WD)
G Express 1500 (2WD)
G Express 1500 (2WD)
H Express 1500 (AWD)
H Express 1500 (AWD)
H Express 1500 (AWD)
H Express 1500 (AWD)
H Express 1500 (AWD)
G Express 2500
G Express 2500
H Express 2500
G Express 2500
G Express 2500 (2WD)
G Express 2500 (2WD)
G Express 2500 (2WD)
G Express 2500 (2WD)
G Express 2500 (2WD)
G Express 3500
G Express 3500
G Express 3500 Cargo/Passenger - 05, 06 Bodystyle
G Express 3500 Cargo/Passenger - 05, 06 Bodystyle
G Express 3500 Cargo/Passenger - 05, 06 Bodystyle
G Express 3500 Cargo/Passenger - 05, 06 Bodystyle
G Express 3500 Cargo/Passenger - 05, 06 Bodystyle
G Express 3500 Chassis Cab - 03 Bodystyle
G Express 3500 Chassis Cab - 03 Bodystyle
G Express 3500 Chassis Cab - 03 Bodystyle
G Express 3500 Chassis Cab - 03 Bodystyle
G Express 3500 Chassis Cab - 03 Bodystyle
G G10 VAN
G G10 VAN
G G10 VAN
G G10 VAN Express
G G10 VAN Sportvan
G G10 VAN Sportvan
G G1500 VAN
G G20 VAN
G G20 VAN
G G20 VAN
G G20 VAN Express
G G20 VAN Sportvan
G G20 VAN Sportvan
G G2500 VAN
G G30 VAN
G G30 VAN
G G30 VAN
G G30 VAN Express
G G30 VAN Sportvan
G G30 VAN Sportvan
G G35/G3500 VAN
G G3500 VAN
A HHR
A HHR
A HHR
A HHR
A HHR
A HHR
K K10 Pickup 4WD
K K10 Suburban 4WD
K K1500 Pickup 4WD
K K1500 Pickup 4WD
K K1500 Pickup 4WD - Carryover Model
K K1500 Pickup Sierra 4WD
K K1500 Pickup Sierra XC 4WD
K K1500 Suburban 4WD
K K1500 Suburban 4WD
K K20 Pickup 4WD
K K20 Suburban 4WD
K K2500 Pickup 4WD
K K2500 Pickup 4WD
K K2500 Pickup 4WD - Carryover Model
K K2500 Suburban 4WD
K K2500 Suburban 4WD
K K30 Pickup 4WD
K K3500 Pickup 4WD
K K3500 Pickup 4WD
K K3500 Pickup 4WD - carryover Model
P P30 VAN
R R10 Pickup
R R10 Suburban
R R1500 Suburban
R R20 Pickup
R R20 Suburban
R R2500 Pickup
R R2500 Suburban
R R30 Pickup
R R3500 Pickup
S S10 Blazer - 16 Bodystyle (2WD)
T S10 Blazer - 16 Bodystyle (4WD)
S S10 Blazer 2WD
T S10 Blazer 4WD
S S10 Blazer 2WD
S S10 Blazer 2WD
T S10 Blazer 4WD
T S10 Blazer 4WD
S S10 Pickup Ext Cab - 53 Bodystyle (2WD)
T S10 Pickup Ext Cab - 53 Bodystyle (4WD)
S S10 Pickup Reg Cab - 03 Bodystyle (2WD)
T S10 Pickup Reg Cab - 03 Bodystyle (4WD)
C Silverado 1500 - 03, 43, 53 Bodystyle (2WD)
C Silverado 1500 - 03, 43, 53 Bodystyle (2WD)
C Silverado 1500 - 03, 43, 53 Bodystyle (2WD)
C Silverado 1500 - 03, 43, 53 Bodystyle (2WD)
C Silverado 1500 - 03, 43, 53 Bodystyle (2WD)
C Silverado 1500 - 03, 43, 53 Bodystyle (2WD) New Style
C Silverado 1500 - 03, 43, 53 Bodystyle (2WD) New Style
K Silverado 1500 - 03, 43, 53 Bodystyle (4WD)
K Silverado 1500 - 03, 43, 53 Bodystyle (4WD)
K Silverado 1500 - 03, 43, 53 Bodystyle (4WD)
K Silverado 1500 - 03, 43, 53 Bodystyle (4WD)
K Silverado 1500 - 03, 43, 53 Bodystyle (4WD)
K Silverado 1500 - 03, 43, 53 Bodystyle (4WD) New Style
K Silverado 1500 - 03, 43, 53 Bodystyle (4WD) New Model
C Silverado 1500 2WD - New Style
K Silverado 1500 4WD - New Style
C Silverado 1500 Crew Cab - 43 Bodystyle (2WD) New Style
C Silverado 1500 Crew Cab - 43 Bodystyle (2WD)
C Silverado 1500 Crew Cab - 43 Bodystyle (2WD)
C Silverado 1500 Crew Cab - 43 Bodystyle (2WD)
C Silverado 1500 Crew Cab - 43 Bodystyle (2WD) exc Hybrid
C Silverado 1500 Crew Cab - 43 Bodystyle (2WD) exc Hybrid
C Silverado 1500 Crew Cab - 43 Bodystyle (2WD) exc Hybrid
C Silverado 1500 Crew Cab - 43 Bodystyle (2WD) exc Hybrid
K Silverado 1500 Crew Cab - 43 Bodystyle (4WD) New Style
K Silverado 1500 Crew Cab - 43 Bodystyle (4WD)
K Silverado 1500 Crew Cab - 43 Bodystyle (4WD)
K Silverado 1500 Crew Cab - 43 Bodystyle (4WD)
K Silverado 1500 Crew Cab - 43 Bodystyle (4WD) exc Hybrid
K Silverado 1500 Crew Cab - 43 Bodystyle (4WD) exc Hybrid
K Silverado 1500 Crew Cab - 43 Bodystyle (4WD) exc Hybrid
K Silverado 1500 Crew Cab - 43 Bodystyle (4WD) exc Hybrid
C Silverado 1500 Double Cab - 53 Bodystyle (2WD)
K Silverado 1500 Double Cab - 53 Bodystyle (4WD)
C Silverado 1500 Extended Cab - 53 Bodystyle (2WD)
C Silverado 1500 Extended Cab - 53 Bodystyle (2WD)
C Silverado 1500 Extended Cab - 53 Bodystyle (2WD)
C Silverado 1500 Extended Cab - 53 Bodystyle (2WD)
C Silverado 1500 Extended Cab - 53 Bodystyle (2WD)
C Silverado 1500 Extended Cab - 53 Bodystyle (2WD) New Style
K Silverado 1500 Extended Cab - 53 Bodystyle (4WD)
K Silverado 1500 Extended Cab - 53 Bodystyle (4WD)
K Silverado 1500 Extended Cab - 53 Bodystyle (4WD)
K Silverado 1500 Extended Cab - 53 Bodystyle (4WD)
K Silverado 1500 Extended Cab - 53 Bodystyle (4WD)
K Silverado 1500 Extended Cab - 53 Bodystyle (4WD) New Style
C Silverado 1500 HD 2WD - New Style
K Silverado 1500 HD 4WD - New Style
C Silverado 1500 Hybrid - 43 Bodystyle (2WD)
C Silverado 1500 Hybrid - 43 Bodystyle (2WD)
K Silverado 1500 Hybrid - 43 Bodystyle (4WD)
K Silverado 1500 Hybrid - 43 Bodystyle (4WD)
C Silverado 1500 Hybrid - 53 Bodystyle (2WD)
K Silverado 1500 Hybrid - 53 Bodystyle (4WD)
C Silverado 1500 Hybrid Crew Cab - 43 Bodystyle (2WD)
K Silverado 1500 Hybrid Crew Cab - 43 Bodystyle (4WD)
C Silverado 1500 Regular Cab - 03 Bodystyle (2WD)
C Silverado 1500 Regular Cab - 03 Bodystyle (2WD)
C Silverado 1500 Regular Cab - 03 Bodystyle (2WD)
C Silverado 1500 Regular Cab - 03 Bodystyle (2WD)
C Silverado 1500 Regular Cab - 03 Bodystyle (2WD)
C Silverado 1500 Regular Cab - 03 Bodystyle (2WD)
C Silverado 1500 Regular Cab - 03 Bodystyle (2WD) New Style
C Silverado 1500 Regular Cab - 03 Bodystyle (2WD) (Carryover Model) (NON Canada and U.S.)
C Silverado 1500 Regular Cab - 03 Bodystyle (2WD)
K Silverado 1500 Regular Cab - 03 Bodystyle (4WD)
K Silverado 1500 Regular Cab - 03 Bodystyle (4WD)
K Silverado 1500 Regular Cab - 03 Bodystyle (4WD)
K Silverado 1500 Regular Cab - 03 Bodystyle (4WD)
K Silverado 1500 Regular Cab - 03 Bodystyle (4WD)
K Silverado 1500 Regular Cab - 03 Bodystyle (4WD)
K Silverado 1500 Regular Cab - 03 Bodystyle (4WD) New Style
K Silverado 1500 Regular Cab - 03 Bodystyle (4WD) Carryover Model) (NON Canada and U.S.)
K Silverado 1500 Regular Cab - 03 Bodystyle (4WD) (New Model)
C Silverado 1500HD Crew Cab - 43 Bodystyle (2WD)
K Silverado 1500HD Crew Cab - 43 Bodystyle (2WD)
C Silverado 2500 2WD - New Style
K Silverado 2500 4WD - New Style
C Silverado 2500 HD 2WD - New Style
K Silverado 2500 HD 4WD - New Style
C Silverado 2500HD - 03, 43 Bodystyle (2WD)
K Silverado 2500HD - 03, 43 Bodystyle (4WD)
C Silverado 2500HD - 03, 43, 53 Bodystyle (2WD)
C Silverado 2500HD - 03, 43, 53 Bodystyle (2WD)
C Silverado 2500HD - 03, 43, 53 Bodystyle (2WD)
C Silverado 2500HD - 03, 43, 53 Bodystyle (2WD)
C Silverado 2500HD - 03, 43, 53 Bodystyle (2WD)
C Silverado 2500HD - 03, 43, 53 Bodystyle (2WD) New Style
K Silverado 2500HD - 03, 43, 53 Bodystyle (4WD)
K Silverado 2500HD - 03, 43, 53 Bodystyle (4WD)
K Silverado 2500HD - 03, 43, 53 Bodystyle (4WD)
K Silverado 2500HD - 03, 43, 53 Bodystyle (4WD)
K Silverado 2500HD - 03, 43, 53 Bodystyle (4WD)
K Silverado 2500HD - 03, 43, 53 Bodystyle (4WD) New Style
C Silverado 2500HD Crew Cab - 43 Bodystyle (2WD)
C Silverado 2500HD Crew Cab - 43 Bodystyle (2WD)
C Silverado 2500HD Crew Cab - 43 Bodystyle (2WD)
C Silverado 2500HD Crew Cab - 43 Bodystyle (2WD)
C Silverado 2500HD Crew Cab - 43 Bodystyle (2WD)
C Silverado 2500HD Crew Cab - 43 Bodystyle (2WD) New Style
K Silverado 2500HD Crew Cab - 43 Bodystyle (4WD)
K Silverado 2500HD Crew Cab - 43 Bodystyle (4WD)
K Silverado 2500HD Crew Cab - 43 Bodystyle (4WD)
K Silverado 2500HD Crew Cab - 43 Bodystyle (4WD)
K Silverado 2500HD Crew Cab - 43 Bodystyle (4WD)
K Silverado 2500HD Crew Cab - 43 Bodystyle (4WD) New Style
C Silverado 2500HD Double Cab - 53 Bodystyle (2WD)
K Silverado 2500HD Double Cab - 53 Bodystyle (4WD)
C Silverado 2500HD Extended Cab - 53 Bodystyle (2WD)
C Silverado 2500HD Extended Cab - 53 Bodystyle (2WD)
C Silverado 2500HD Extended Cab - 53 Bodystyle (2WD)
C Silverado 2500HD Extended Cab - 53 Bodystyle (2WD)
C Silverado 2500HD Extended Cab - 53 Bodystyle (2WD) New Style
K Silverado 2500HD Extended Cab - 53 Bodystyle (4WD)
K Silverado 2500HD Extended Cab - 53 Bodystyle (4WD)
K Silverado 2500HD Extended Cab - 53 Bodystyle (4WD)
K Silverado 2500HD Extended Cab - 53 Bodystyle (4WD)
K Silverado 2500HD Extended Cab - 53 Bodystyle (4WD) New Style
C Silverado 2500HD Regular Cab - 03 Bodystyle (2WD)
C Silverado 2500HD Regular Cab - 03 Bodystyle (2WD)
C Silverado 2500HD Regular Cab - 03 Bodystyle (2WD)
C Silverado 2500HD Regular Cab - 03 Bodystyle (2WD)
C Silverado 2500HD Regular Cab - 03 Bodystyle (2WD)
C Silverado 2500HD Regular Cab - 03 Bodystyle (2WD) New Style
K Silverado 2500HD Regular Cab - 03 Bodystyle (4WD)
K Silverado 2500HD Regular Cab - 03 Bodystyle (4WD)
K Silverado 2500HD Regular Cab - 03 Bodystyle (4WD)
K Silverado 2500HD Regular Cab - 03 Bodystyle (4WD)
K Silverado 2500HD Regular Cab - 03 Bodystyle (4WD)
K Silverado 2500HD Regular Cab - 03 Bodystyle (4WD)
K Silverado 2500HD Regular Cab - 03 Bodystyle (4WD) New Style
C Silverado 3500 - 03, 43, 53 Bodystyle (2WD)
K Silverado 3500 - 03, 43, 53 Bodystyle (4WD)
C Silverado 3500 2WD - New Style
K Silverado 3500 4WD - New Style
C Silverado 3500 Crew Cab - 43 Bodystyle (2WD)
K Silverado 3500 Crew Cab - 43 Bodystyle (4WD)
C Silverado 3500 Extended Cab - 53 Bodystyle (2WD)
K Silverado 3500 Extended Cab - 53 Bodystyle (4WD)
C Silverado 3500 Regular Cab - 03 Bodystyle (2WD)
K Silverado 3500 Regular Cab - 03 Bodystyle (4WD)
C Silverado 3500HD - 03, 43 Bodystyle (2WD)
K Silverado 3500HD - 03, 43 Bodystyle (4WD)
C Silverado 3500HD - 03, 43, 53 Bodystyle (2WD)
C Silverado 3500HD - 03, 43, 53 Bodystyle (2WD)
C Silverado 3500HD - 03, 43, 53 Bodystyle (2WD)
C Silverado 3500HD - 03, 43, 53 Bodystyle (2WD)
C Silverado 3500HD - 03, 43, 53 Bodystyle (2WD) New Style
K Silverado 3500HD - 03, 43, 53 Bodystyle (4WD)
K Silverado 3500HD - 03, 43, 53 Bodystyle (4WD)
K Silverado 3500HD - 03, 43, 53 Bodystyle (4WD)
K Silverado 3500HD - 03, 43, 53 Bodystyle (4WD)
K Silverado 3500HD - 03, 43, 53 Bodystyle (4WD) New Style
C Silverado 3500HD Crew Cab - 43 Bodystyle (2WD)
C Silverado 3500HD Crew Cab - 43 Bodystyle (2WD)
C Silverado 3500HD Crew Cab - 43 Bodystyle (2WD)
C Silverado 3500HD Crew Cab - 43 Bodystyle (2WD)
C Silverado 3500HD Crew Cab - 43 Bodystyle (2WD) New Style
K Silverado 3500HD Crew Cab - 43 Bodystyle (4WD)
K Silverado 3500HD Crew Cab - 43 Bodystyle (4WD)
K Silverado 3500HD Crew Cab - 43 Bodystyle (4WD)
K Silverado 3500HD Crew Cab - 43 Bodystyle (4WD)
K Silverado 3500HD Crew Cab - 43 Bodystyle (4WD) New Style
C Silverado 3500HD Double Cab - 53 Bodystyle (2WD)
K Silverado 3500HD Double Cab - 53 Bodystyle (4WD)
C Silverado 3500HD Extended Cab - 53 Bodystyle (2WD)
C Silverado 3500HD Extended Cab - 53 Bodystyle (2WD)
C Silverado 3500HD Extended Cab - 53 Bodystyle (2WD)
C Silverado 3500HD Extended Cab - 53 Bodystyle (2WD)
C Silverado 3500HD Extended Cab - 53 Bodystyle (2WD) New Style
K Silverado 3500HD Extended Cab - 53 Bodystyle (4WD)
K Silverado 3500HD Extended Cab - 53 Bodystyle (4WD)
K Silverado 3500HD Extended Cab - 53 Bodystyle (4WD)
K Silverado 3500HD Extended Cab - 53 Bodystyle (4WD)
K Silverado 3500HD Extended Cab - 53 Bodystyle (4WD) New Style
C Silverado 3500HD Regular Cab - 03 Bodystyle (2WD)
C Silverado 3500HD Regular Cab - 03 Bodystyle (2WD)
C Silverado 3500HD Regular Cab - 03 Bodystyle (2WD)
C Silverado 3500HD Regular Cab - 03 Bodystyle (2WD)
C Silverado 3500HD Regular Cab - 03 Bodystyle (2WD)
C Silverado 3500HD Regular Cab - 03 Bodystyle (2WD) New Style
K Silverado 3500HD Regular Cab - 03 Bodystyle (4WD)
K Silverado 3500HD Regular Cab - 03 Bodystyle (4WD)
K Silverado 3500HD Regular Cab - 03 Bodystyle (4WD)
K Silverado 3500HD Regular Cab - 03 Bodystyle (4WD)
K Silverado 3500HD Regular Cab - 03 Bodystyle (4WD) New Style
C Silverado Classic 1500 - 03, 43, 53 Bodystyle (2WD)
K Silverado Classic 1500 - 03, 43, 53 Bodystyle (4WD)
C Silverado Classic 1500 Crew Cab - 43 Bodystyle (2WD)
K Silverado Classic 1500 Crew Cab - 43 Bodystyle (4WD)
C Silverado Classic 1500 Extended Cab - 53 Bodystyle (2WD)
K Silverado Classic 1500 Extended Cab - 53 Bodystyle (4WD)
C Silverado Classic 1500 Hybrid - 53 Bodystyle (2WD)
K Silverado Classic 1500 Hybrid - 53 Bodystyle (4WD)
C Silverado Classic 1500 Regular Cab - 03 Bodystyle (2WD)
K Silverado Classic 1500 Regular Cab - 03 Bodystyle (4WD)
C Silverado Classic 1500HD Crew Cab - 43 Bodystyle (2WD)
K Silverado Classic 1500HD Crew Cab - 43 Bodystyle (4WD)
C Silverado Classic 2500HD Crew Cab - 03, 43, 53 Bodystyle (2WD)
K Silverado Classic 2500HD Crew Cab - 03, 43, 53 Bodystyle (4WD)
C Silverado Classic 2500HD Crew Cab - 43 Bodystyle (2WD)
K Silverado Classic 2500HD Crew Cab - 43 Bodystyle (4WD)
C Silverado Classic 2500HD Extended Cab - 53 Bodystyle (2WD)
K Silverado Classic 2500HD Extended Cab - 53 Bodystyle (4WD)
C Silverado Classic 2500HD Regular Cab - 03 Bodystyle (2WD)
K Silverado Classic 2500HD Regular Cab - 03 Bodystyle (4WD)
C Silverado Classic 3500 - 03, 43, 53 Bodystyle (2WD)
K Silverado Classic 3500 - 03, 43, 53 Bodystyle (4WD)
C Silverado Classic 3500 Crew Cab - 43 Bodystyle (2WD)
K Silverado Classic 3500 Crew Cab - 43 Bodystyle (4WD)
C Silverado Classic 3500 Extended Cab - 53 Bodystyle (2WD)
K Silverado Classic 3500 Extended Cab - 53 Bodystyle (4WD)
C Silverado Classic 3500 Regular Cab - 03 Bodystyle (2WD)
K Silverado Classic 3500 Regular Cab - 03 Bodystyle (4WD)
C Silverado LD 1500 - 53 Bodystyle (2WD) (Carryover Model)
K Silverado LD 1500 - 53 Bodystyle (4WD) (Carryover Model)
C Silverado SS
K Silverado SS 4WD - New Style
C Silverado SS Classic
S SSR (2WD)
S SSR 2WD
C Suburban - 06 Bodystyle (2WD)
K Suburban - 06 Bodystyle (4WD)
K Suburban - 06 Bodystyle (4WD) exc Heavy Duty
C Suburban 1/2 ton - 06 Bodystyle (2WD)
C Suburban 1/2 ton - 06 Bodystyle (2WD)
C Suburban 1/2 ton - 06 Bodystyle (2WD)
C Suburban 1/2 ton - 06 Bodystyle (2WD)
C Suburban 1/2 ton - 06 Bodystyle (2WD)
C Suburban 1/2 ton - 06 Bodystyle (2WD)
K Suburban 1/2 ton - 06 Bodystyle (4WD)
K Suburban 1/2 ton - 06 Bodystyle (4WD)
K Suburban 1/2 ton - 06 Bodystyle (4WD)
K Suburban 1/2 ton - 06 Bodystyle (4WD)
K Suburban 1/2 ton - 06 Bodystyle (4WD)
K Suburban 1/2 ton - 06 Bodystyle (4WD)
C Suburban 1500 - 06 Bodystyle (2WD)
K Suburban 1500 - 06 Bodystyle (4WD)
C Suburban 1500 2WD
K Suburban 1500 4WD
C Suburban 1500 LS 2WD
K Suburban 1500 LS 4WD
C Suburban 1500 LT 2WD
K Suburban 1500 LT 4WD
K Suburban 1500 Z71 4WD
C Suburban 2500 - 06 Bodystyle (2WD)
K Suburban 2500 - 06 Bodystyle (4WD)
C Suburban 2500 2WD
K Suburban 2500 4WD
C Suburban 2500 LS 2WD
K Suburban 2500 LS 4WD
C Suburban 2500 LT 2WD
K Suburban 2500 LT 4WD
C Suburban 3/4 ton - 06 Bodystyle (2WD)
C Suburban 3/4 ton - 06 Bodystyle (2WD)
C Suburban 3/4 ton - 06 Bodystyle (2WD)
C Suburban 3/4 ton - 06 Bodystyle (2WD)
K Suburban 3/4 ton - 06 Bodystyle (4WD)
K Suburban 3/4 ton - 06 Bodystyle (4WD)
K Suburban 3/4 ton - 06 Bodystyle (4WD)
K Suburban 3/4 ton - 06 Bodystyle (4WD)
K Suburban Heavy Duty - 06 Bodystyle (4WD)
K Suburban Heavy Duty - 06 Bodystyle (4WD)
C Tahoe - 06 Bodystyle (2WD)
C Tahoe - 06 Bodystyle (2WD)
C Tahoe - 06 Bodystyle (2WD)
C Tahoe - 06 Bodystyle (2WD)
C Tahoe - 06 Bodystyle (2WD)
C Tahoe - 06 Bodystyle (2WD) exc Hybrid
C Tahoe - 06 Bodystyle (2WD) exc Hybrid
C Tahoe - 06 Bodystyle (2WD) exc Hybrid
C Tahoe - 06 Bodystyle (2WD) exc Hybrid
K Tahoe - 06 Bodystyle (4WD)
K Tahoe - 06 Bodystyle (4WD)
K Tahoe - 06 Bodystyle (4WD)
K Tahoe - 06 Bodystyle (4WD)
K Tahoe - 06 Bodystyle (4WD)
K Tahoe - 06 Bodystyle (4WD) exc Hybrid
K Tahoe - 06 Bodystyle (4WD) exc Hybrid
K Tahoe - 06 Bodystyle (4WD) exc Hybrid
K Tahoe - 06 Bodystyle (4WD) exc Hybrid
C Tahoe 2WD
C Tahoe 2WD
C Tahoe 2WD
C Tahoe 2WD - Carryover model
C Tahoe 2WD - New Style
K Tahoe 4WD
K Tahoe 4WD
K Tahoe 4WD
K Tahoe 4WD - Carryover model
K Tahoe 4WD - New Style
K Tahoe Hybrid - 06 Bodystyle (2WD)
C Tahoe Hybrid - 06 Bodystyle (2WD)
C Tahoe Hybrid - 06 Bodystyle (2WD)
K Tahoe Hybrid - 06 Bodystyle (4WD)
K Tahoe Hybrid - 06 Bodystyle (4WD)
K Tahoe Hybrid - 06 Bodystyle (4WD)
C Tahoe LS 2WD
K Tahoe LS 4WD
C Tahoe LT 2WD
K Tahoe LT 4WD
K Tahoe Z71 4WD
S Trailblazer (2WD)
S Trailblazer (2WD) exc SS
S Trailblazer (2WD) exc SS
S Trailblazer (2WD) exc SS
T Trailblazer (4WD)
T Trailblazer (4WD) exc SS
T Trailblazer (4WD) exc SS
T Trailblazer (4WD) exc SS
S Trailblazer 2WD
T Trailblazer 4WD
S Trailblazer EXT (2WD)
T Trailblazer EXT (4WD)
S Trailblazer EXT 2WD
T Trailblazer EXT (4WD)
S Trailblazer EXT LS 2WD
T Trailblazer EXT LS 4WD
S Trailblazer EXT LT 2WD
T Trailblazer EXT LT 4WD
S Trailblazer LS 2WD
T Trailblazer LS 4WD
S Trailblazer LT 2WD
T Trailblazer LT 4WD
S Trailblazer SS (2WD)
S Trailblazer SS (2WD)
S Trailblazer SS (2WD)
S Trailblazer SS (2WD)
T Trailblazer SS (AWD)
T Trailblazer SS (AWD)
T Trailblazer SS (AWD)
T Trailblazer SS (AWD)
R Traverse (2WD)
R Traverse (2WD)
V Traverse (AWD)
V Traverse (AWD)
X Uplander (AWD)
U Uplander (AWD)
U Uplander - Extended wheelbase (2WD)
U Uplander - Extended wheelbase (2WD)
U Uplander - Extended wheelbase (2WD)
U Uplander - Extended wheelbase (2WD)
U Uplander - Regular wheelbase (2WD)
U Uplander - Regular wheelbase (2WD)
U Uplander - Regular wheelbase (2WD)
U Uplander - Regular wheelbase (2WD)
V V10 Pickup
V V10 Suburban
V V1500 Suburban
V V20 Pickup
V V20 Suburban
V V2500 Suburban
V V30 Pickup
V V3500 Pickup
- LG - Lt Truck GMC
R Acadia (2WD)
R Acadia (2WD)
R Acadia (2WD)
R Acadia (2WD)
V Acadia (AWD)
V Acadia (AWD)
V Acadia (AWD)
V Acadia (AWD)
R Acadia Limited (2WD) (Carryover Model)
V Acadia Limited (AWD) (Carryover Model)
S Bravada 2WD
S Bravada 2WD
T Bravada 4WD
T Bravada 4WD
C C15/C1500 Pickup 2WD
C C15/C1500 Suburban 2WD
C C1500 Pickup 2WD - Carryover Model
C C1500 Pickup Sierra 2WD
C C1500 Pickup Sierra 2WD - Carryover Model
C C1500 Pickup SierraXC 2WD
C C1500 Pickup SierraXC 2WD - Carryover Model
C C1500 Suburban 2WD
C C1500 Suburban 2WD
C C25/C2500 Pickup 2WD
C C25/C2500 Suburban 2WD
C C2500 Pickup 2WD - Carryover Model
C C2500 Pickup Sierra 2WD
C C2500 Pickup Sierra 2WD - Carryover Model
C C2500 Pickup SierraXC 2WD
C C2500 Pickup SierraXC 2WD - Carryover Model
C C2500 Suburban 2WD
C C2500 Suburban 2WD
C C35/C3500 Pickup 2WD
C C3500 Pickup 2WD - Carryover Model
K C3500 Pickup 4WD - Carryover Model
K C3500 Pickup HD Chassis CAB 4WD - New Style
C C3500 Pickup Sierra 2WD
C C3500 Pickup Sierra 2WD - Carryover Model
C C3500 Pickup SierraXC 2WD
C C3500 Pickup SierraXC 2WD - Carryover Model
S Canyon - 03, 43, 53 Bodystyle (2WD)
T Canyon - 03, 43, 53 Bodystyle (2WD)
S Canyon 2WD
T Canyon 4WD
S Canyon Crew Cab - 43 Bodystyle (2WD)
S Canyon Crew Cab - 43 Bodystyle (2WD)
S Canyon Crew Cab - 43 Bodystyle (2WD)
S Canyon Crew Cab - 43 Bodystyle (2WD)
S Canyon Crew Cab - 43 Bodystyle (2WD)
T Canyon Crew Cab - 43 Bodystyle (4WD)
T Canyon Crew Cab - 43 Bodystyle (4WD)
T Canyon Crew Cab - 43 Bodystyle (4WD)
T Canyon Crew Cab - 43 Bodystyle (4WD)
T Canyon Crew Cab - 43 Bodystyle (4WD)
S Canyon Extended Cab - 53 Bodystyle (2WD)
S Canyon Extended Cab - 53 Bodystyle (2WD)
S Canyon Extended Cab - 53 Bodystyle (2WD)
S Canyon Extended Cab - 53 Bodystyle (2WD)
S Canyon Extended Cab - 53 Bodystyle (2WD)
T Canyon Extended Cab - 53 Bodystyle (4WD)
T Canyon Extended Cab - 53 Bodystyle (4WD)
T Canyon Extended Cab - 53 Bodystyle (4WD)
T Canyon Extended Cab - 53 Bodystyle (4WD)
T Canyon Extended Cab - 53 Bodystyle (4WD)
S Canyon Regular Cab - 03 Bodystyle (2WD)
S Canyon Regular Cab - 03 Bodystyle (2WD)
S Canyon Regular Cab - 03 Bodystyle (2WD)
S Canyon Regular Cab - 03 Bodystyle (2WD)
S Canyon Regular Cab - 03 Bodystyle (2WD)
T Canyon Regular Cab - 03 Bodystyle (4WD)
T Canyon Regular Cab - 03 Bodystyle (4WD)
T Canyon Regular Cab - 03 Bodystyle (4WD)
T Canyon Regular Cab - 03 Bodystyle (4WD)
T Canyon Regular Cab - 03 Bodystyle (4WD)
S Canyon Z71 Fleet 2WD
T Canyon Z71 Fleet 4WD
S Canyon Z71 SL 2WD
T Canyon Z71 SL 4WD
S Canyon Z71 SLE 2WD
T Canyon Z71 SLE 4WD
S Canyon Z85 SL 2WD
T Canyon Z85 SL 4WD
S Canyon Z85 SLE 2WD
T Canyon Z85 SLE 4WD
S Envoy (2WD)
S Envoy (2WD) exc Denali
S Envoy (2WD) exc Denali
S Envoy (2WD) exc Denali
T Envoy (4WD)
T Envoy (4WD) exc Denali
T Envoy (4WD) exc Denali
T Envoy (4WD) exc Denali
S Envoy 2WD
T Envoy 4WD
S Envoy Denali (2WD)
S Envoy Denali (2WD)
S Envoy Denali (2WD)
S Envoy Denali (2WD)
T Envoy Denali (4WD)
T Envoy Denali (4WD)
T Envoy Denali (4WD)
T Envoy Denali (4WD)
S Envoy Denali 2WD
T Envoy Denali 4WD
S Envoy SLE 2WD
T Envoy SLE 4WD
S Envoy SLT 2WD
T Envoy SLT 4WD)
S Envoy XL (2WD)
T Envoy XL (4WD)
S Envoy XL 2WD
T Envoy XL 4WD
S Envoy XL Denali (2WD)
T Envoy XL Denali (4WD)
S Envoy XL Denali (2WD)
T Envoy XL Denali (4WD)
S Envoy XL SLE 2WD
T Envoy XL SLE 4WD
S Envoy XL SLT 2WD
T Envoy XL SLT 4WD
S Envoy XUV 2WD
T Envoy XUV 4WD
S Envoy XUV SLE 2WD
T Envoy XUV SLE 4WD
S Envoy XUV SLT 2WD
T Envoy XUV SLT 4WD
G G15/G1500 VAN
G G15/G1500 VAN Savana
G G25/G2500 VAN
G G25/G2500 VAN Cargo
G G25/G2500 VAN Savana
G G25/G2500 VAN XT
G G35/G3500 VAN
V Jimmy
S Jimmy 2WD
K Jimmy 4WD
T Jimmy 4WD
S Jimmy Envoy 2WD
T Jimmy Envoy 4WD
K K15/K1500 Pickup 4WD
K K15/K1500 Suburban 4WD
K 1500 Pickup 4WD - Carryover Model
K 1500 Pickup Sierra 4WD
K 1500 Pickup Sierra 4WD - Carryover Model
K 1500 Pickup SierraXC 4WD
K 1500 Pickup SierraXC 4WD - Carryover Model
K K1500 Suburban 4WD
K K1500 Suburban 4WD
K K25/K2500 Pickup 4WD
K K25/K2500 Suburban 4WD
K K2500 Pickup 4WD - Carryover Model
K K2500 Pickup Sierra 4WD
K K2500 Pickup Sierra 4WD - Carryover Model
K K2500 Pickup Sierra XC 4WD (1992-1996)
K K2500 Pickup Sierra XC 4WD - Carryover Model
K K2500 Suburban 4WD
K K2500 Suburban 4WD
K 35/K3500 Pickup 4WD
K K3500 Pickup 4WD - Carryover Model
K K3500 Pickup Sierra 4WD
K K3500 Pickup Sierra 4WD - Carryover Model
K K3500 Pickup SierraXC 4WD
K K3500 Pickup SierraXC 4WD - Carryover Model
R R1500 Pickup
R R1500 Suburban
R R2500 Pickup
R R2500 Suburban
R R3500 Pickup
S S15 Jimmy - 16 Bodystyle (2WD)
T S15 Jimmy - 16 Bodystyle (4WD)
S S15 Jimmy 2WD
T S15 Jimmy 4WD
S S15 Pickup Ext Cab - 53 Bodystyle (2WD)
T S15 Pickup Ext Cab - 53 Bodystyle (4WD)
S S15 Pickup Reg Cab - 03 Bodystyle (2WD)
T S15 Pickup Reg Cab - 03 Bodystyle (4WD)
G Savana 1500
G Savana 1500
H Savana 1500
G Savana 1500 (2WD)
G Savana 1500 (2WD)
G Savana 1500 (2WD)
G Savana 1500 (2WD)
G Savana 1500 (2WD)
H Savana 1500 (AWD)
H Savana 1500 (AWD)
H Savana 1500 (AWD)
H Savana 1500 (AWD)
H Savana 1500 (AWD)
G Savana 2500
G Savana 2500
H Savana 2500
G Savana 2500
G Savana 2500 (2WD)
G Savana 2500 (2WD)
G Savana 2500 (2WD)
G Savana 2500 (2WD)
G Savana 2500 (2WD)
G Savana 3500
G Savana 3500
G Savana 3500 Cargo/Passenger - 05, 06 Bodystyle
G Savana 3500 Cargo/Passenger - 05, 06 Bodystyle
G Savana 3500 Cargo/Passenger - 05, 06 Bodystyle
G Savana 3500 Cargo/Passenger - 05, 06 Bodystyle
G Savana 3500 Cargo/Passenger - 05, 06 Bodystyle
G Savana 3500 Chassis Cab - 03 Bodystyle
G Savana 3500 Chassis Cab - 03 Bodystyle
G Savana 3500 Chassis Cab - 03 Bodystyle
G Savana 3500 Chassis Cab - 03 Bodystyle
G Savana 3500 Chassis Cab - 03 Bodystyle
C Sierra 1500 - 03, 43, 53 Bodystyle (2WD)
C Sierra 1500 - 03, 43, 53 Bodystyle (2WD)
C Sierra 1500 - 03, 43, 53 Bodystyle (2WD)
C Sierra 1500 - 03, 43, 53 Bodystyle (2WD)
C Sierra 1500 - 03, 43, 53 Bodystyle (2WD)
C Sierra 1500 - 03, 43, 53 Bodystyle (2WD) New Style
K Sierra 1500 - 03, 43, 53 Bodystyle (4WD)
K Sierra 1500 - 03, 43, 53 Bodystyle (4WD)
K Sierra 1500 - 03, 43, 53 Bodystyle (4WD)
K Sierra 1500 - 03, 43, 53 Bodystyle (4WD)
K Sierra 1500 - 03, 43, 53 Bodystyle (4WD)
K Sierra 1500 - 03, 43, 53 Bodystyle (4WD) New Style
C Sierra 1500 2WD - New Style
K Sierra 1500 2WD - New Style
C Sierra 1500 Crew Cab - 43 Bodystyle (2WD)
C Sierra 1500 Crew Cab - 43 Bodystyle (2WD) exc Denali
C Sierra 1500 Crew Cab - 43 Bodystyle (2WD) exc Denali
C Sierra 1500 Crew Cab - 43 Bodystyle (2WD) exc Denali
C Sierra 1500 Crew Cab - 43 Bodystyle (2WD) exc Denali, Hybrid
C Sierra 1500 Crew Cab - 43 Bodystyle (2WD) exc Denali, Hybrid
C Sierra 1500 Crew Cab - 43 Bodystyle (2WD) exc Denali, Hybrid
C Sierra 1500 Crew Cab - 43 Bodystyle (2WD) exc Denali, Hybrid
C Sierra 1500 Crew Cab - 43 Bodystyle (2WD) New Style
K Sierra 1500 Crew Cab - 43 Bodystyle (4WD)
K Sierra 1500 Crew Cab - 43 Bodystyle (4WD) exc Denali
K Sierra 1500 Crew Cab - 43 Bodystyle (4WD) exc Denali
K Sierra 1500 Crew Cab - 43 Bodystyle (4WD) exc Denali
K Sierra 1500 Crew Cab - 43 Bodystyle (4WD) exc Denali, Hybrid
K Sierra 1500 Crew Cab - 43 Bodystyle (4WD) exc Denali, Hybrid
K Sierra 1500 Crew Cab - 43 Bodystyle (4WD) exc Denali, Hybrid
K Sierra 1500 Crew Cab - 43 Bodystyle (4WD) New Style
C Sierra 1500 Denali - 43 Bodystyle (2WD)
C Sierra 1500 Denali - 43 Bodystyle (2WD)
C Sierra 1500 Denali - 43 Bodystyle (2WD)
C Sierra 1500 Denali - 43 Bodystyle (2WD)
C Sierra 1500 Denali - 43 Bodystyle (2WD)
C Sierra 1500 Denali - 43 Bodystyle (2WD) New Style
K Sierra 1500 Denali - 43 Bodystyle (4WD)
K Sierra 1500 Denali - 43 Bodystyle (AWD)
K Sierra 1500 Denali - 43 Bodystyle (AWD)
K Sierra 1500 Denali - 43 Bodystyle (AWD)
K Sierra 1500 Denali - 43 Bodystyle (AWD)
K Sierra 1500 Denali - 43 Bodystyle (AWD) New Style
C Sierra 1500 Denali Crew Cab - 43 Bodystyle (2WD)
C Sierra 1500 Denali Crew Cab - 43 Bodystyle (2WD)
C Sierra 1500 Denali Crew Cab - 43 Bodystyle (2WD)
C Sierra 1500 Denali Crew Cab - 43 Bodystyle (2WD)
K Sierra 1500 Denali Crew Cab - 43 Bodystyle (4WD)
K Sierra 1500 Denali Crew Cab - 43 Bodystyle (4WD)
K Sierra 1500 Denali Crew Cab - 43 Bodystyle (4WD)
K Sierra 1500 Denali Crew Cab - 43 Bodystyle (4WD)
C Sierra 1500 Double Cab - 53 Bodystyle (2WD)
K Sierra 1500 Double Cab - 53 Bodystyle (4WD)
C Sierra 1500 Extended Cab - 53 Body (2WD)
C Sierra 1500 Extended Cab - 53 Body (2WD)
C Sierra 1500 Extended Cab - 53 Body (2WD)
C Sierra 1500 Extended Cab - 53 Body (2WD)
C Sierra 1500 Extended Cab - 53 Body (2WD) New Style
K Sierra 1500 Extended Cab - 53 Body (4WD)
K Sierra 1500 Extended Cab - 53 Body (4WD)
K Sierra 1500 Extended Cab - 53 Body (4WD)
K Sierra 1500 Extended Cab - 53 Body (4WD) new Style
C Sierra 1500 Extended Cab - 53 Bodystyle (2WD)
K Sierra 1500 Extended Cab - 53 Bodystyle (4WD)
C Sierra 1500 HD 2WD - New Style
K Sierra 1500 HD 4WD - New Style
C Sierra 1500 HD SLE 2WD - New Style
K Sierra 1500 HD SLE 4WD - New Style
C Sierra 1500 HD SLT 2WD - New Style
K Sierra 1500 HD SLT 4WD - New Style
C Sierra 1500 Hybrid - 43 Bodystyle (2WD)
C Sierra 1500 Hybrid - 43 Bodystyle (2WD)
K Sierra 1500 Hybrid - 43 Bodystyle (4WD)
K Sierra 1500 Hybrid - 43 Bodystyle (4WD)
C Sierra 1500 Hybrid - 53 Bodystyle (2WD)
K Sierra 1500 Hybrid - 53 Bodystyle (4WD)
C Sierra 1500 Hybrid Crew Cab - 43 Bodystyle (2WD) exc Denali
K Sierra 1500 Hybrid Crew Cab - 43 Bodystyle (4WD) exc Denali
C Sierra 1500 Regular Cab - 03 Body (2WD)
C Sierra 1500 Regular Cab - 03 Body (2WD)
C Sierra 1500 Regular Cab - 03 Body (2WD)
C Sierra 1500 Regular Cab - 03 Body (2WD)
C Sierra 1500 Regular Cab - 03 Body (2WD) New Style
K Sierra 1500 Regular Cab - 03 Body (4WD)
K Sierra 1500 Regular Cab - 03 Body (4WD)
K Sierra 1500 Regular Cab - 03 Body (4WD)
K Sierra 1500 Regular Cab - 03 Body (4WD)
K Sierra 1500 Regular Cab - 03 Body (4WD) New Style
C Sierra 1500 Regular Cab - 03 Bodystyle (2WD)
C Sierra 1500 Regular Cab - 03 Bodystyle (2WD)
K Sierra 1500 Regular Cab - 03 Bodystyle (4WD)
K Sierra 1500 Regular Cab - 03 Bodystyle (4WD)
C Sierra 1500HD Crew Cab - 43 Bodystyle (2WD)
K Sierra 1500HD Crew Cab - 43 Bodystyle (4WD)
C Sierra 2500 2WD - New Style
K Sierra 2500 4WD - New Style
C Sierra 2500 HD 2WD - New Style
K Sierra 2500 HD 4WD - New Style
C Sierra 2500HD - 03, 43 Bodystyle (2WD)
K Sierra 2500HD - 03, 43 Bodystyle (4WD)
C Sierra 2500HD - 03, 43, 53 Bodystyle (2WD)
C Sierra 2500HD - 03, 43, 53 Bodystyle (2WD)
C Sierra 2500HD - 03, 43, 53 Bodystyle (2WD)
C Sierra 2500HD - 03, 43, 53 Bodystyle (2WD)
C Sierra 2500HD - 03, 43, 53 Bodystyle (2WD)
C Sierra 2500HD - 03, 43, 53 Bodystyle (2WD) New Style
K Sierra Denali 4WD - New Style
C Silverado 1500 Hybrid 2WD - New Style
S Sonoma 2 WD/4WD
C Yukon - 06 Bodystyle (2WD/4WD)
C Yukon Denali 2WD
K Yukon Denali 2WD
C Yukon XL 2500 SLE 2WD
K Yukon XL 2500 SLE 4WD
- LO - Lt Truck Oldmobile
S Bravada 2WD
T Bravada 2WD
- LP - Lt Truck Pontiac
J Sunrunner 2 Dr Hard Top 4WD
E Sunrunner Convertible 2WD
J Sunrunner Convertible 4WD
U Montana SV6 - Extended wheelbase (2WD)
- M - Medium Truck
C C-Series 6500/7500/8500
T T-Series 6500/7500/8500
C Topkick/Kodiak
C Topkick/Kodiak C4500/C5500
- OP - Opel
M13 Adam
H00 Agila-A
H08 Agila-B
L07 Antara
M99 Astra Classic
T92 Astra-F
T98 Astra-G + zafira-A
A04 Astra-H
P10 Astra-J
B16 Astra-K
TF0 Campo
TF1 Campo
W13 Cascada
S83 Corsa-A
S93 Corsa-B + Tigra-A
X01 Corsa-C )
S07 Corsa-D
X15 Corsa-E
P17 Crossland X
U92 Frontera-A
U99 Frontera-B
A18 Grandland X
G09 Insignia-A
Z18 Insignia-B
X03 Meriva-A
S10 Meriva-B
J13 Mokka/Mokka X
X70 Movano-A
X62 Movano-B
V87 Omega-A
V94 Omega-B
Z03 Signum
X04 Tigra-B
J89 Vectra-A
J96 Vectra-B
Z02 Vectra-C
X83 Vivaro-A
X82 Vivaro-B
WSW Workshop Materials
A05 Zafira-B
- P - Pontiac
U Montana APV
A Pursuit
U SV-6 (2WD)
X SV-6 (AWD)
U TransportAPV
- SB - Saab
SBC SAAB 9-3 (9400)
SBD SAAB 9-3 (9440)
SBF SAAB 9-5 (650)
SBE SAAB 9-5 (9600)
SBA SAAB 900
SBB SAAB 9000
Features:
In the search field at the top of the EPC screen, you can search for the information you need using the following options:
- VIN decoding (filtering displays vehicle-specific parts information)
- Part name/description
- Part number
- Illustration number
- ACDelco number
After performing a search, the Search Results pane lets you:
- Apply VIN or Ultra VIN filtering
- View part details
- Preview an illustration
- Use an advanced search to refine the results
- Limit search results to ACDelco parts
- Filter search results by part location
- View usage for a part across all catalogs
---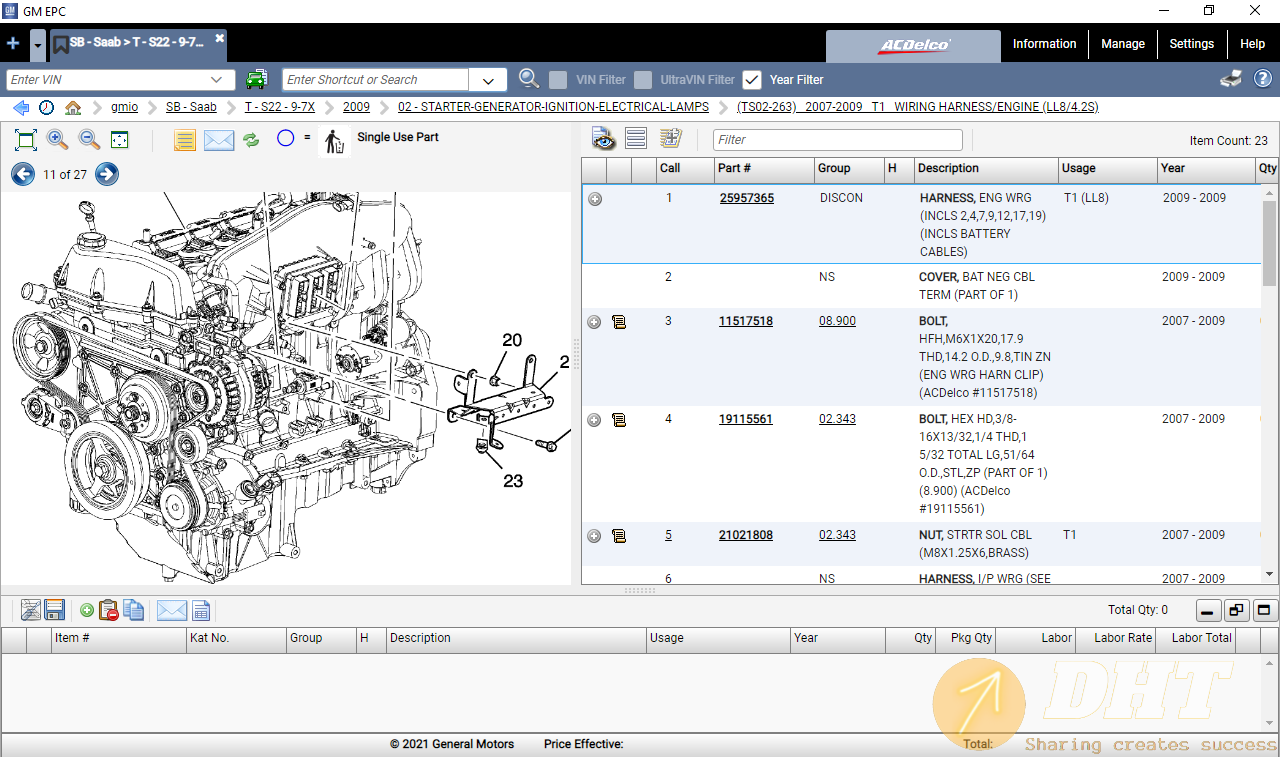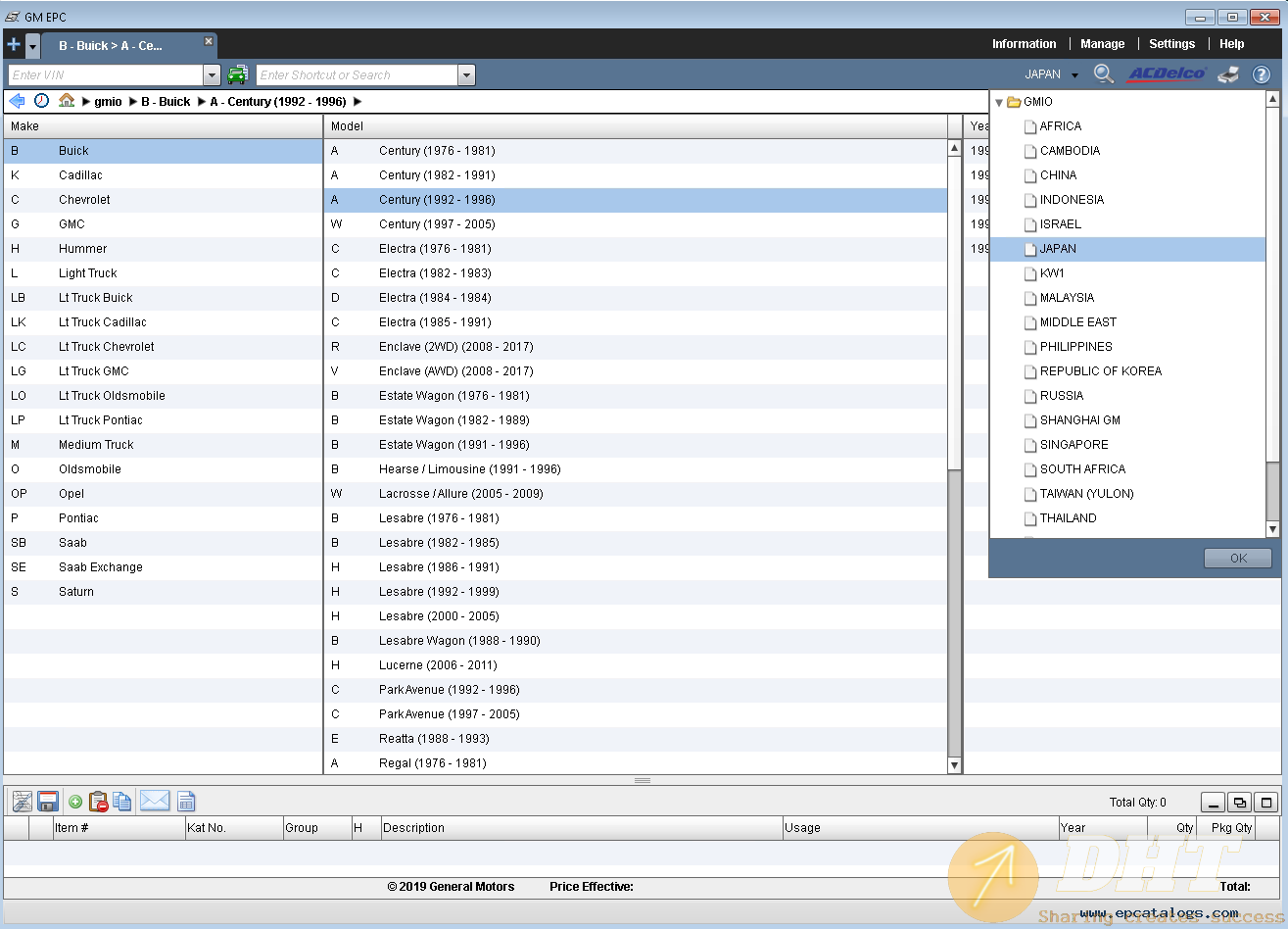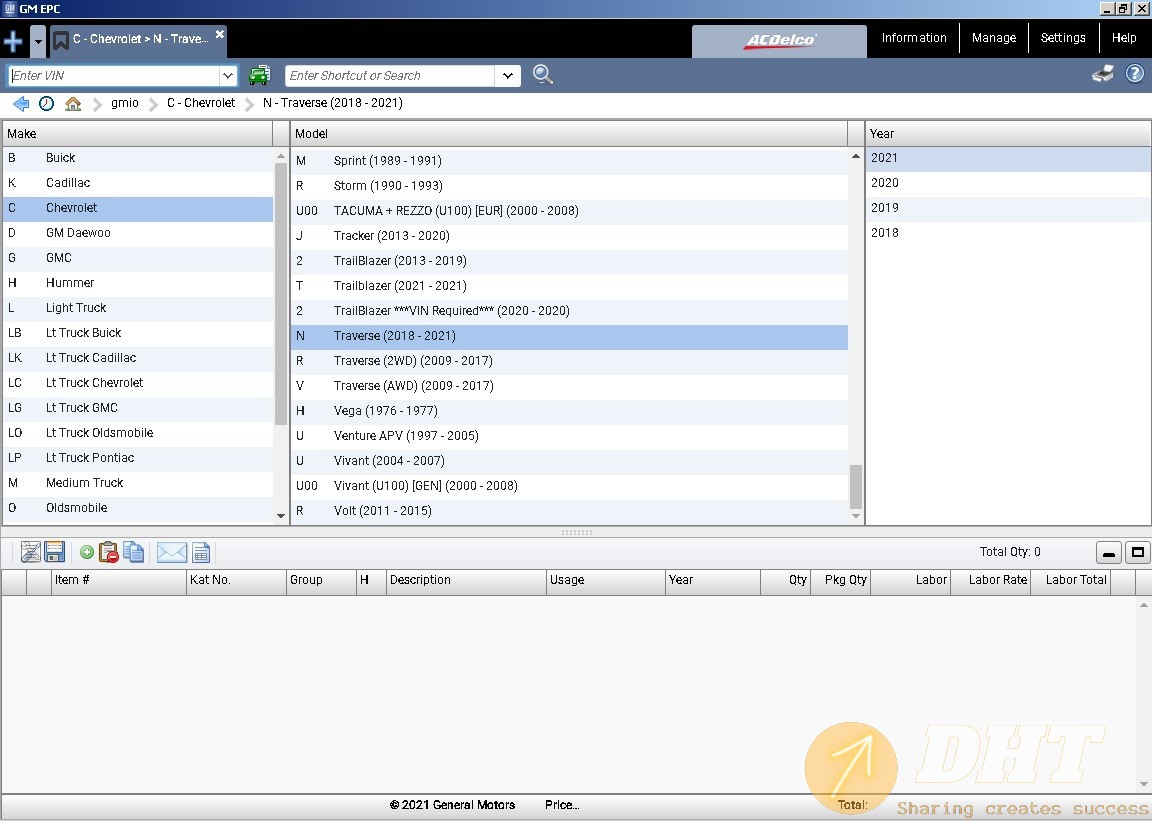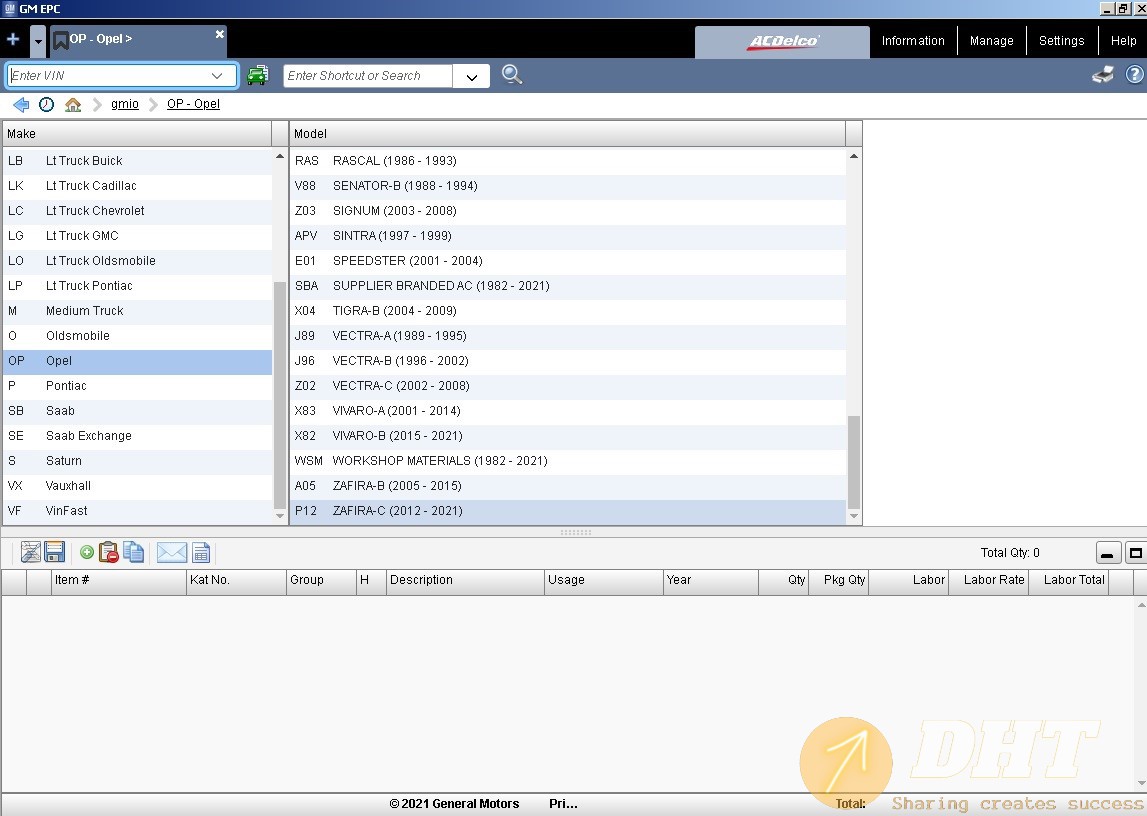 Last edited by a moderator: