Sep 10, 2018
737
74
28
26
If you download this document, you will be lost 68395 Beer
Download Now
​
​
1. What is DDDL 8.17 SP1?

​

DDDL 8.17 SP0 is a specialized diagnostic software for Detroit engine lines and Freightliner Cascadia & Western Star 5700. With DDDL software you have made advanced features such as: MCM, ACM programming, engine speed adjustment, adjust fuel economy, increase power, aftertreatment delete…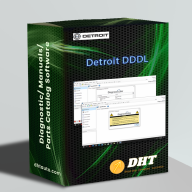 We support: Remote install and Selling Full software with keygen blocked PC
2. Software Information

​
Name: Detroit Diesel Diagnostic Link
Version: DDDL 8.17 SP0
Level: 10 – 10 – 10 (Read: 10 – Write: 10 – Hardware: 10)
Capacity: 2.09 GB
Market: All Market
Troubleshooting: 2022
2.1. Support ECU

​
EPA07 – DD15, DD13, DD16, S60, MBE900, MBE4000
EPA10 – DD13, DD15, DD16
GHG14 – DD13, DD15, DD16, DT12 Transmission
GHG17 – DD13, DD15, DD16
Freightliner Cascadia
Western Star 5700XE
2.2. Feature

​
Vehicle ECU software compatibility checking
Vehicle ECU Instrumentation and I/O control troubleshooting panels
Vehicle ECU Identification and Fault Code display
Display detected equipment in a user interface
New I/O control view reduces the number of tabs shown
The new display of Program Device settings
New VIM Throttle Panel for testing GHG14


​
2.3. Computer Requirements

​
Ram: 4 GB
Free hard drive: 10 GB
Windows® 10 64-bit
Windows® 11 64-bit
2.4. Supported Hardware

​
Nexiq USB Link (Version 1 or 2)
DG Technology DPA5
Norgone DLA
And some other RP1210 devices
3. What is Keyegn block PC?



A key generator (keygen) is a computer program that creates a product licensing key for DDDL 8.17 SP1, such as a serial number, for a software application

Keygen block PC is a form of keygen that is limited by a fixed computer. You can use the keygen on this computer to create multiple licenses for DDDL 8.17 SP1 software.


​
Last edited by a moderator: