VMWare GDS Commercial Hyundai - Kia 2019
​
Description:
The Global Diagnostic System (GDS) is the OEM diagnostic tool used by Hyundai and Kia dealers. GDS offers complete diagnostic and reprogramming capabilities for all Hyundai and Kia vehicles as well as a comprehensive maintenance and service information database. With highly advanced hardware and extensive software capabilities, GDS provides a complete diagnostic and service solution for any Hyundai or Kia vehicle. The GDS software features complete service and troubleshooting information as well as detailed repair and maintenance instructions.
​
Type:
VMWare
Capacity:
270 GB
OS:
Window 7 (64 Bit)
Language:
English
Market:
General
Computer Requirements:
Free drive space:

500 GB


VMWare 16.x or above


RAM:

8 GB or more


Operating System:

Window 10 64bit, Window 11 64bit
Support Hardware:
GDS VCI
Software Feature:
* Diagnostic feature:
- Read & Clear Diagnostic Trouble Codes (DTCs)
- Data List
- Activate test
- Basic settings, Registration Immo, smartkey, Registration injector, Steering angle sensor calibration, Coding SRS
- Coding, Programming ECU​
* Lookup feature:
- Shop manual.
- Wiring diagram ETM.
- Disassembly/ reassembly instructions
- Component location
- Look up and repair copper paint.
- Information lookup function based on VIN number, PIN CODE, airbag code, look up genuine parts.
- Overhaul
- Body repair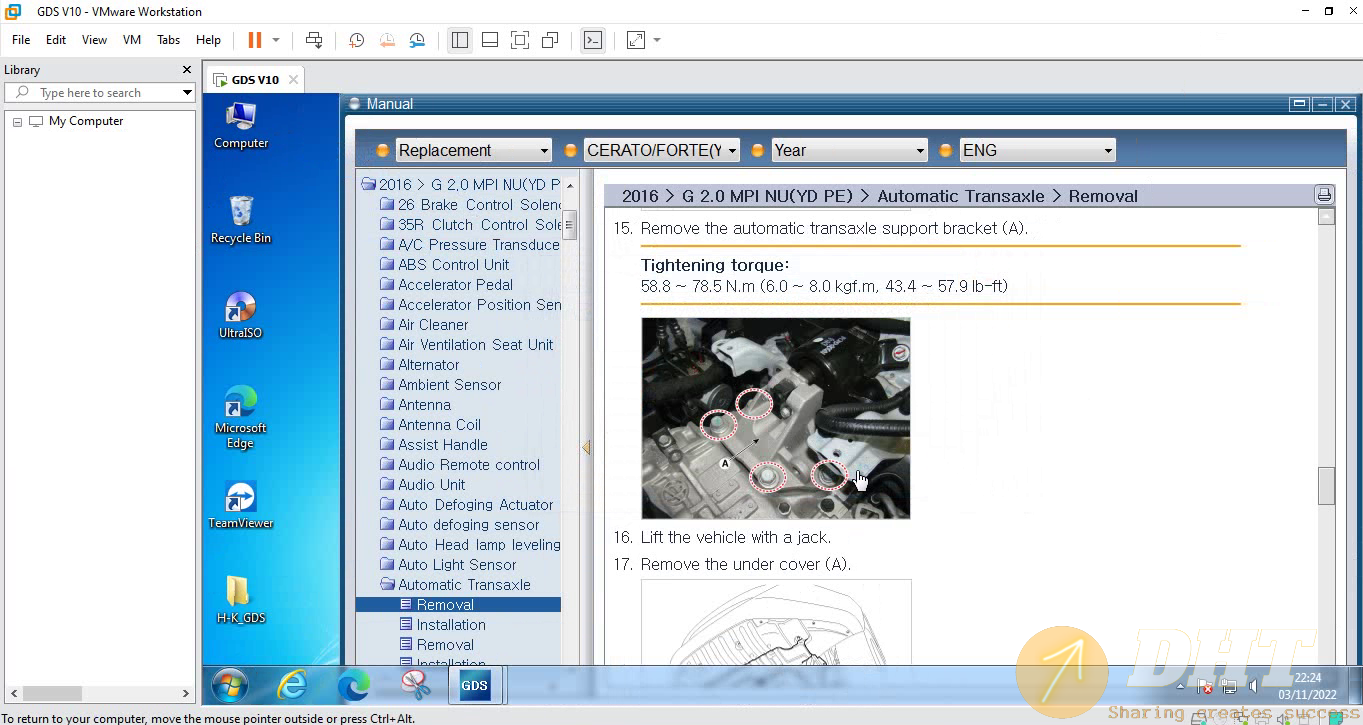 ---
Are you concerned about risk after payment?​
We know you are concerned about the prepayment, receive the software later. Don't worry, you should use
Paypal
and remember to choose a payment method
Pay for goods or services
, you will be guaranteed safety by Paypal.
It is a form of assurance that gives you peace of mind, but in fact you will never need Paypal to resolve a dispute, because we would not be foolish to exchange a DHTauto.com brand that we have built it. When there was bad feedback, our Paypal account was also locked. And will affect our brand. So if the case does not support you, we are ready to Refund the money you sent us.
Please refer:
Refund policy.
Are you concerned that you will not know how to use the software?​
If you are newbie, you can refer to our videos on our
Youtube channel
or
Facebook
. We regularly upload video instructions to test the vehicle or perform the functions of programming, review software, install software,.... Is it important that you take the time and effort to learn?. There are many tutorials, and many videos and documents that are completely free.
Also, if you need us to do it for you, check out:
DHT AUTO STORE