Sep 10, 2018
699
58
28
26
If you download this document, you will be lost 0 Beer
Download Now
JLR SDD and JLR DOIP Pathfinder Full Package
​
- You are looking for solutions to repair Land Rover and Jaguar vehicles.
- You don't know the names of all the software, you don't know where to find software information. If so, DHTauto will provide you with all the information related to these software
---
J

LR SDD

and

JLR DOIP Pathfinder

are diagnostic software of Lanrover and Jaguar for old and new car. The package software of Land Rover and Janguar including:​
+ JLR SDD (Online/Offline)

​
+ JLR Pathfinder (Online/Offline)

​
+ JLR SDD Access password

​
+ CCF tools​
---
1. JLR SDD

​
1.1. JLR SDD Land Rover & Jaguar:

is the original dealer diagnostic software for Land Rover and Jaguar vehicles. JLR SDD works with Land & Range Rover since 2005 models and Jaguar from 1995 both up to 2017. The Jaguar/Land Rover Integrated Diagnostic System (IDS) is the only equipment that provides complete diagnostic coverage of JLR vehicles.​
1.2. JLR SDD Software Lastest Version: 163.00 v.346 (information updateded: 25/11/2022)​
1.3. The Interface Support: JLR VCI, JLR VCI DOIP, JLR VCX Nano, Compatible with most J2534 interface such as: Drewtech Mongoose for, Autel J2534,...​
1.4.JLR SDD Supported Model:​
*JLR VCI and more J2534 interface:​
+ Supports L316, L319, L320, L322, L359, L538 Land Rover Vehicle Models​
+ Supports X100, X150, X202, X250, X350, X351, X400 Jaguar Vehicle Models​
*JLR VCI DOIP: The JLR DoIP VCI is the newest interface for Jaguar and Land Rover vehicles. It is the only unit that will be compatible with the Pathfinder and all JLR vehicles with the new vehicle architectures found in 2017 and newer vehicles (from the Range Rover/Range Rover Sport L405/L494).​
In addition to the 2017 and newer vehicles, the DoIP VCI will also be capable of interfacing with 2014 through 2016 Multi-CAN architecture vehicles (see application list below). Vehicles 2014 and older vehicles not detailed here will continue to use the current diagnostic system and VCIs.​
+ XE (X760)​
+ F-Pace (X761)​
+ F-Type (X152)​
+ XF (X260)​
+ XJ (X351) – 16MY only​
+ Evoque (L538)​
+ Discovery Sport (L550)​
+ Range Rover (L405)​
+ Range Rover Sport (L494)​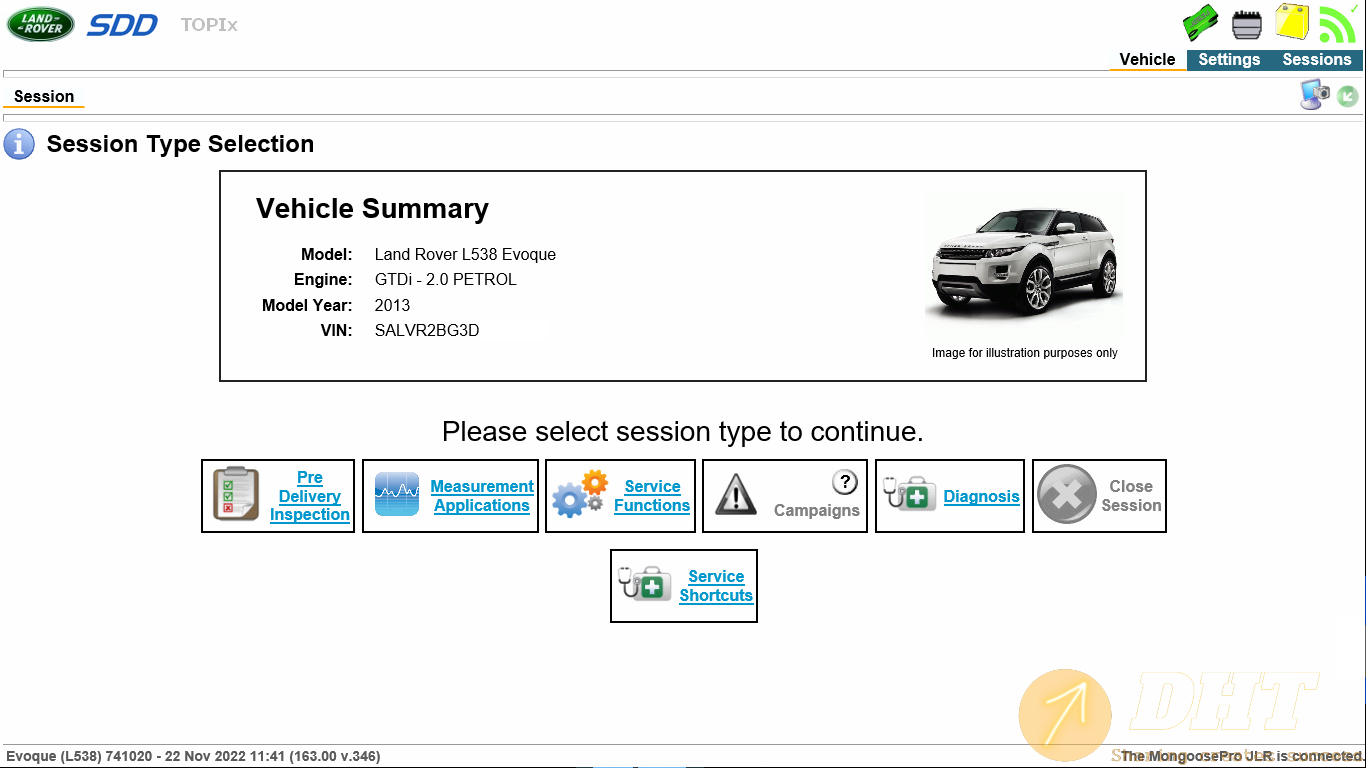 1.5. The software Function:

​
+ JLR SDD Online update​
+ Auto read VIN car​
+ Read Fault code​
+ Clear All Fault Code​
+ Read data stream​
+ Actuator test​
+ Retrofit (Add/Remove Accessories)​
+ Replacement New Control Modules​
+ Add additional keys​
+ Configure new modules​
+ Online Cablibration​
+ Progrming offline​
+ Programing online (if you have TOPix Clound Account)​
+ And more function other​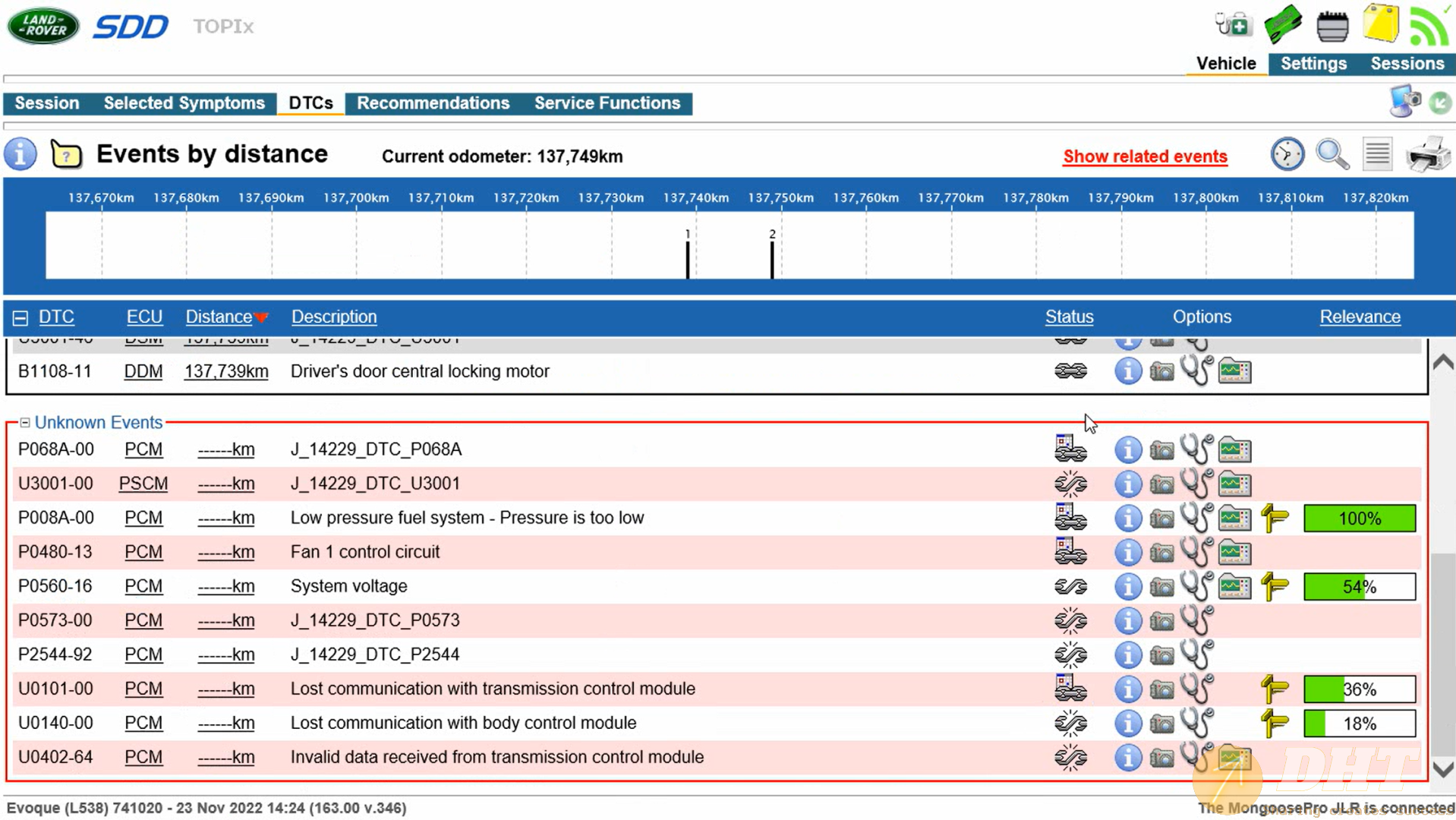 ​

​
---
Pathfinder is the new JLR Diagnostic System that supports JLR vehicles from 2017 onward. PATHFINDER is the all new diagnostic system specifically designed and released for the introduction of the following vehicles.

​
2.1. JLR Pathfinder Software Lastest Version:

R

eleased 1569 (information updated: 25/11/2022)

​
2.2. The interface support:

Just support with JLR DoIP VCI.These vehicles can ONLY communicate with the all new PATHFINDER diagnostic software using the new Diagnostics over Internet Protocol (DoIP) Vehicle Communication Interface (VCI) unit which conforms to the new communication protocol.

​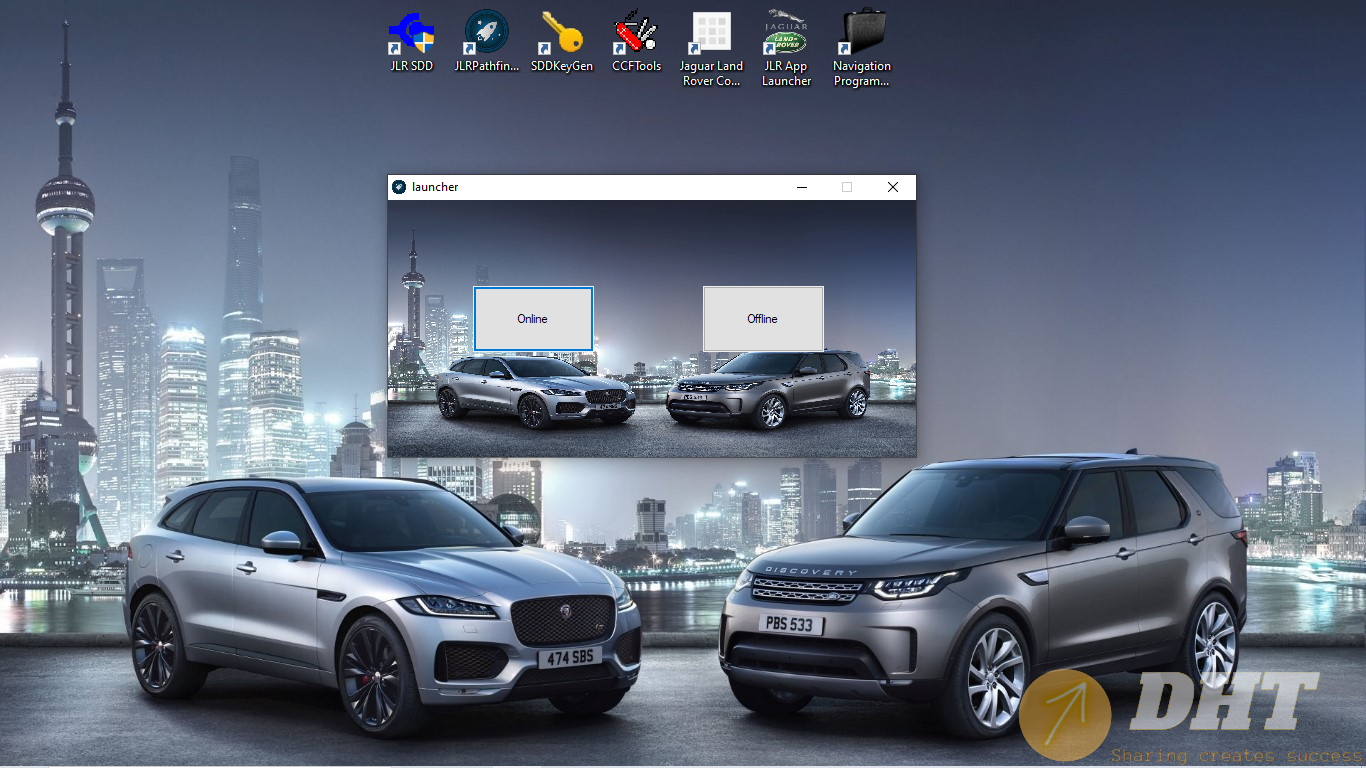 2.3. JLR SDD Supported Model:

​
+ F-TYPE X152 (18MY)​
+ F-PACE X761 (18MY)​
+ XE X760 (18MY)​
+ XF X260 (18MY)​
+ Range Rover L405 (17MY)​
+ Range Rover Sport L494 (17MY)​
+ New Discovery L462 (17MY)​
2.4. The software Function:

​
+ These vehicles have been designed to communicate with new high speed communication protocols. This allows faster software download, programming and communication, making it faster to use and saving valuable time.​
+ JLR Pathfinder offline mode: Diganostic basic function

​
+ JLR Pathfinder online mode: Full function (if you have TOPix Clound Account)​
​
---
3. JLR SDD Access Password

​
Access Code to Unlock Special Functions​
For example:

For Land Rover or Jaguar vehicle retrofit projects,you need access JLR SDD engineering mode to do parameter configuration

​
* Land Rover:
+ CCF EDITOR
+ ODO APP (L316)
+ ERASE KEYS (L322)
+ ODO APP (L322)
+ RECOVER KEYS (L322)
+ OPTION 8
+ SOFTWARE DOWNLOAD
+ VEHICLE UPDATE (Only Taiwan models)
* Jaguar:
+ CCF EDITOR
+ ODO APP (X150)
+ ODO APP (X250)
+ ODO APP (X351)
+ SOFTWARE DOWNLOAD
+ VID BLOCK EDITOR
+ VIN BYPASS
+ RECOVER KEYS (X351)​
---
4. Jaguar Land Rover CCF Editor Tools
​
Jaguar Land Rover CCF editor - CCF TOOL v4.6: Special tool for editing (Change vin, change coding, activate special options...) for Jaguar and Land Rover cars built from 2012 - 2022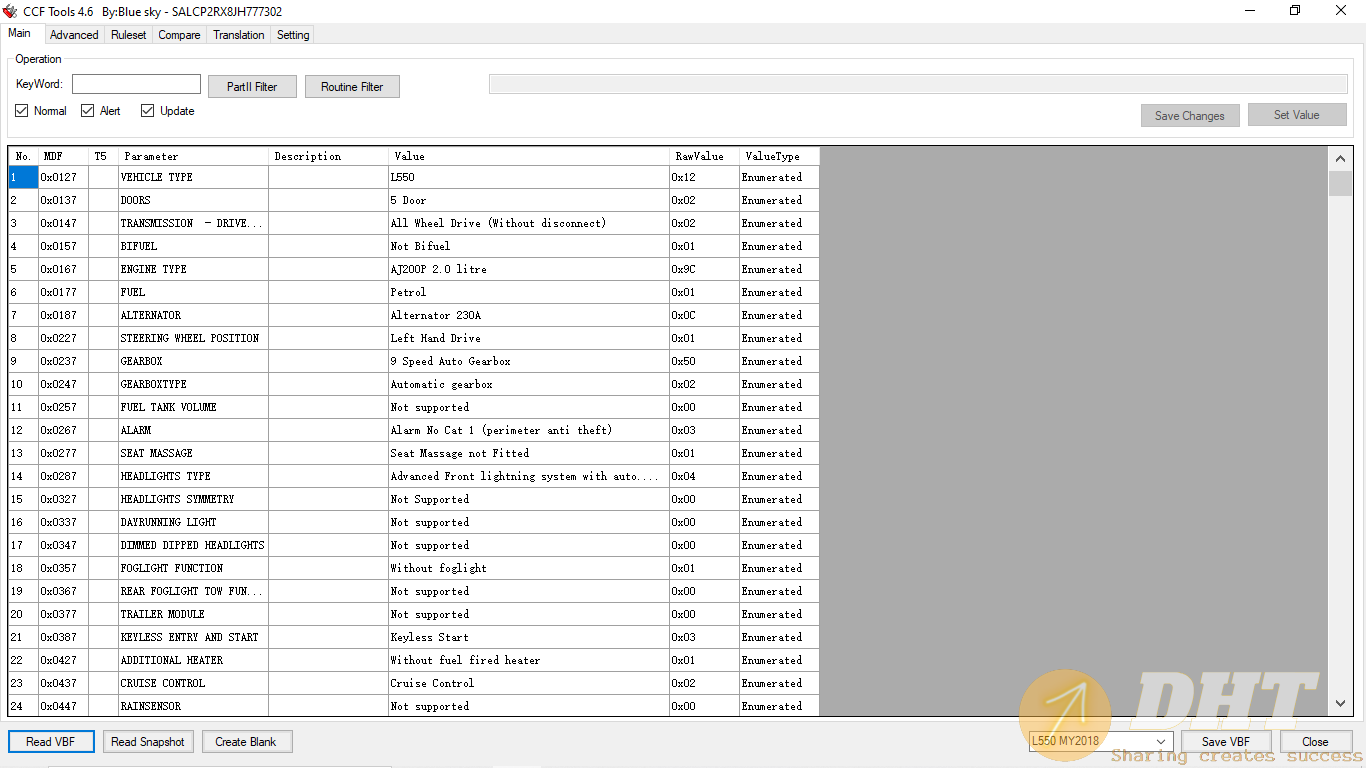 ​
4.1. Software Lastest Version:

​+ Jaguar Land Rover CCF editor - CCF TOOL v4.6
+ Jaguar Land Rover CCF editor - CCF TOOL v4.8​
4.2. The software Function:

​ + It allow to edit any parameter
+ It has a flexible search and filtering system for parameters
+ It allows you to pin parameters at the top of the list for fast access
+ It allow to compare 2 CCF files and see differences
+ Supported to open CCF as VBF file or zipped file
+ Support up to "MultiCan 899" parameter
+ Allow to download AsIs/AsBuilt from server
---
5. Computer Requirements
+ Windows 7(x32),(x64)
+ Windows 10 pro (x64)
+ CPU: Pentium/Athlon 1.60 GHz or higher
+ RAM: 4 GB of system memory
+ Hard Drive: 45 GB of available space
Note:
JLR SDD and JLR Patfinder not compatible on Windows 11
---
Any request for support or installation of any software related to JLR SDD and JLR DOIP Pathfinder Full Package please contact us via
Admin
Skype
WhatsApp
Email
Fanpage
Youtube
Last edited by a moderator: