Debut: 2014
Maker:
Hyundai
Predecessor:
i20 (2008)
The enormous financial power of Hyundai allows it to tailor-make cars for different regions and chase for bigger success. In Europe, its i-series models are designed specially for the taste and needs of European motorists, and most are designed and built in Europe, too. These include the i40, i30 and the recently renewed i20. The i20 competes in the highly popular B-segment, or supermini class, in which it faces strong rivals like Peugeot 208, Volkswagen Polo, Ford Fiesta and Renault Clio. In such an overcrowded market, the last (first) generation i20 did respectably well for a first attempt. It sold 400,000 units in its 6-years lifespan. However, its top rivals sell about the same amount in one year. There is certainly some room for improvement.
For the new i20, Hyundai plans to build 100,000 units a year. Production again takes place at the Turkish plant, unlike i30 which is assembled in Czech Republic. The lower production costs there will allow the Hyundai to maintain a price advantage or to increase standard features. Like the i30, it is developed at Hyundai's European HQ in Russelsheim, Germany, whereas styling comes from the Frankfurt studio. Its European genes are not to be doubted.
After the very stylish i30 and i40, it is quite surprising – or disappointing – to see the i20 chose a conservative tone. The car looks boxier, more angular and more Volkswagen-like. While the high-curvature shape of i30 requires high-precision assembly and low-tolerance components, the straightforward i20 may be easier for Turkish suppliers to work with. The boxier shape might offer better space efficiency, something more important to the smaller car. No matter what reasons, the i20's styling breaks away from its siblings and may signal a change of styling philosophy at Hyundai, especially if you look together with the new Sonata. Having said that, the i20 is not short of stylish features. Both its head and taillights stand out, and the pseudo rear quarter windows, i.e. actually black plastic panels covering C-pillars, try to differ from plain dullness.
Despite of the angular shape, its aerodynamic drag coefficient is quite good at 0.30. The car is slightly larger than the class norm. Its 2570 mm wheelbase is shared with distant relatives Accent and Soul, thus is nearly the longest in the B-segment. This guarantees a rear bench truly accommodating a pair of adults, or maybe 3 at a pinch. This is one of the roomiest cars in the class, one that may threaten some C-segment players. Hyundai said the monocoque has increased the use of ultra-high strength steel from the last generation's 16 percent to 42 percent, and this yields an 81 percent increase of torsional rigidity, which sounds incredible, though the old car was never a proud benchmark. The company also claims it is the lightest in the class, but from the figures released I think that is seriously overstated. A Peugeot 208 is more than 100 kg lighter! Perhaps Hyundai compared it with C-segment cars.
Space aside, the interior is quite pleasing. Admittedly, its materials and build quality are not as classy as Volkswagen Polo or Peugeot 208, but it doesn't feel cheap or outdated. The dashboard looks tasteful, ergonomics are good, and the seats are comfortable. A full-length panoramic roof is a rare option in the class, and it makes the cabin light and airy. The only missing link is an infotainment system. It offers only a smartphone dock to save money. Never mind, I always think we should not spend too much time on playing the electronics while driving. We buy cars to drive, not to play electronics.
So the question is whether the car good to drive. At first, it sounds good. The engines are refined and well insulated from the cabin. The 6-speed manual gearbox is quite slick to shift. The electrical power steering is well weighted. The handling is competent, grips well, resists roll well and displays a bit safe understeer like Volkswagen. It is not as agile or interactive as Ford Fiesta for sure, but by class norm it is above average. Unfortunately, the ride is flawed. It is soft to the extent that fails to suppress sharp ridges and expansion joints, sending shocks straight into the cabin. More work has to be done to its suspension travel, bushings and shock absorbers. Before the problem is sorted, it can't hold a candle to the best European rivals.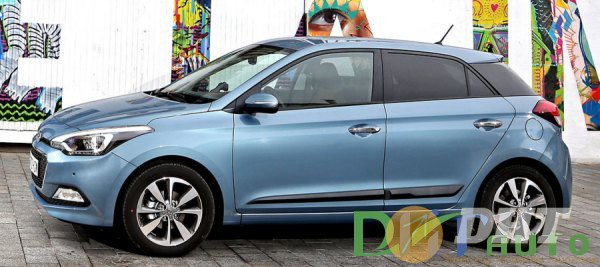 Equally problematic is the engine range. Its Kappa family of all-alloy DVVT petrol four-pot engines consists of a 1.25-liter (75 hp or 84 hp) and 1.4-liter (100 hp). While they are smooth enough, they feel gutless beside the advanced direct injection turbo 3-cylinders of Ford, Opel and Renault, or Volkswagen 1.2 TSI. The lack of torque means you need to rev them hard on motorway, which hurts refinement. They also drink fuel faster than imagined. The diesel alternative, 1.1 CRDi 3-cylinder with 75 hp or 1.4 CRDi 4-cylinder with 90 hp are not much better. Lack of a world-class engine is the biggest problem. Fortunately, Hyundai's new 1-liter DI turbo triple, with 100 hp or 120 hp, will arrive next year. By then we shall know whether it could save the game.
As for now, the new i20 is not good enough to be recommended. It is not as stylish as hoped. It is short of power and it rides poor. Undoubtedly, it is already better than the first generation. Perhaps that is why Hyundai targets for a slight increase of sales rather than a figure threatening its established rivals.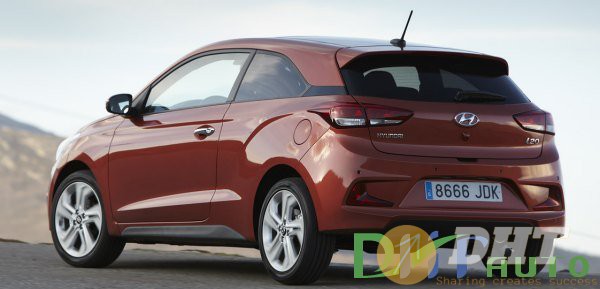 If Audi can call its conventional 5-door hatchback as "Sportback", why not call a 3-door hatch as "Coupe"? That's the logic – or the lack of logic – behind Hyundai i20 Coupe. As usual, the i20 Coupe looked quite sporty in the earliest design sketches, but once it went through the engineering process, subjected to the constraints of its underpinnings and shared parts, it became no more than a conventional 3-door hatch. In other words, like a Golf 3dr instead of a Scirocco. Admittedly, the boxy shape of the standard i20 doesn't help, neither is the dull-looking front end, which is unaltered in the 3-door. A fancy name fails to mask its low-cost conversion.
Appearance aside, there is little to separate the so-called Coupe from its 5-door sister. Its high roof and long wheelbase (for a B-segment car) create generous space inside. The interior is well equipped and easy to use, albeit uninspiring to look. The ride quality and noise suppression are better than class average. Handling is safe and easy but lack of sparkles, especially the numb steering. Unlike Ford Fiesta, it doesn't tuck its nose on throttle lift-off. Nevertheless, its handling is no worse than the class norm.
The most appealing has to be the new 1.0 T-GDi Kappa engine, which is a direct-injected 3-cylinder turbo following the footprints of Ford 1.0 Ecoboost. It is a good motor, with plenty of power (120 hp) and torque (127 lbft), is keen to rev and produces characterful exhaust note. However, it still trails the Ford benchmark a little in low-end response and smoothness. The i20 Coupe just reminds us how exceptional Ford Fiesta is, no matter looks, chassis or engine, even though it is near the age of retirement. As long as this car exists, Hyundai has no hope to catch the more enthusiastic drivers in supermini segment, no matter what marketing tricks it uses.
Specifications Hyundai i20